Who Woody Harrelson Is Definitely Playing In The Han Solo Movie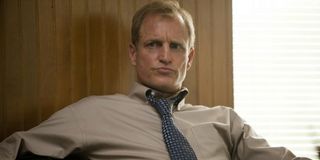 Woody Harrelson has been trying his best to keep quiet about his role in the untitled Han Solo film ever since his participation was confirmed just a few weeks ago. To be fair to the actor, he's done a pretty good job of doing just that while he's been out promoting Wilson over the last few days. But he's still managed to provide a little insight into his part, as he's now confirmed the name of his character, given a little indication about his past and revealed that he is in fact playing a mentor to Han Solo. Harrelson revealed:
Ever since Woody Harrelson's involvement in Han Solo was confirmed, there has been wide speculation that he would in fact be portraying the mentor to Alden Ehrenreich's younger version of the beloved smuggler. It was previously alleged that Harrelson would actually be portraying Garris Shrike, who debuted in the 1997 book The Paradise Snare. Garris Shrike was a bounty-hunter-turned-criminal who helped raise Han Solo, and also turned him to a life of crime. Their relationship was rather abusive, though, and it actually resulted in a very violent conclusion.
While Woody Harrelson has now confirmed that his Han Solo character has taken on a different name, he's at least going to be the mentor that fans had long suspected. Obviously it remains to be seen whether their relationship disintegrates in the same fashion as it did in The Paradise Snare, but since this is a prequel, and considering the scarred character that Han becomes in A New Hope, it would certainly make sense if Harrelson's character was one of the villains of the film, and Han had to resort to violence and death to overcome him.
Of course, at the moment, this is all purely speculation. In fact, news regarding the Han Solo film is still very much at a premium. We haven't even been given an official title. All that we've been presented with is this delightful image of most of the film's cast looking overjoyed on board the Millennium Falcon.
Meanwhile, you can watch a clip of Woody Harrelson skirting around numerous Han Solo questions on The Tonight Show With Jimmy Fallon below.
At least we know when the Han Solo film is being released, though, as it will be with us on May 25, 2018, while its title will hopefully be revealed at next month's Star Wars Celebration.