Why You Won't Want To Miss Guardians Of The Galaxy 2's Opening Scene, According To James Gunn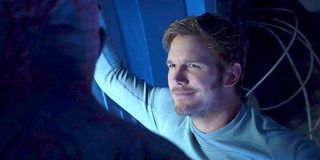 An opening scene can make or break a movie. If the film gets off to a storming start then it immediately has its audience hooked. If it flounders, then it's forever playing catching up. James Gunn clearly knows this, and the opening of 2014's Guardians Of The Galaxy very much managed to do the former. The writer and director has now been talking about the start to its upcoming follow-up, and he's insisted that it manages to surpass its predecessor. That's not all, because James Gunn also provided further details on Guardians Of The Galaxy Vol. 2's opening scene to Fandango (opens in new tab), explaining,
Sounds like an absolute doozy. Especially since James Gunn is still honing the opening number months after shooting it and just weeks before Guardians Of The Galaxy Vol. 2 is due to be screened. Of course, it's going to have to go above and beyond to rival, let alone top, the opening credits scene from Guardians Of The Galaxy, which played out to Redbone's "Come And Get Your Love," and immediately got viewers into the groove of the film. You can re-live Guardians Of The Galaxy's opening scene below.
The big question now is, though, what song will James Gunn pick to try and match the above? He's already admitted that a David Bowie track will be included ("Suffragette City"), while he's also playing with George Harrison's "My Sweet Lord," Jay And The Americans' "Come A Little Bit Closer," and Sweet's "Fox On The Run" too.
Whatever song James Gunn chooses, we already know that it'll be a great choice. That's because the one true thing that Guardians Of The Galaxy and the trailer to its sequel have proven is that James Gunn has a knack for picking and utilizing the perfect music. Just look at the latest footage for Guardians Of The Galaxy Vol. 2. Sure, the shots of Star-Lord (Chris Pratt), Gamora (Zoe Saldana), Drax (Dave Bautista), Baby Groot (Vin Diesel), Rocket (Bradley Cooper), Yondu (Michael Rooker), Nebula (Karen Gillan), and Mantis (Pom Klementieff) doing their thing were immediately impressive, but they were improved umpteen times over by the use of Fleetwood Mac's "The Chain."
We'll get to see if Guardians Of The Galaxy Vol. 2's opening scene can rival that of its predecessor when it is released on May 5th.
Your Daily Blend of Entertainment News
Thank you for signing up to CinemaBlend. You will receive a verification email shortly.
There was a problem. Please refresh the page and try again.