This Rotten Week: Predicting Ghost In The Shell And Boss Baby Reviews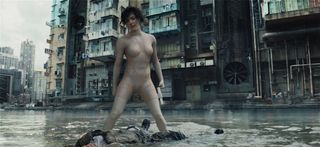 While March was a major month for movies - from Logan to Beauty and the Beast - it's all coming to an end with a relatively quiet week . We've got a manga coming to life with the action thriller Ghost in the Shell, and a new cinematic treat for the little ones with the release of the animated Boss Baby. It's gonna be a Rotten Week!
Just remember, I'm not reviewing these movies, but rather predicting where they'll end up on the Tomatometer. Let's take a look at This Rotten Week has to offer.
I'm sure the idea of Scarlett Johansson in a "nude suit" packing heat and shooting cyborgs has more than a few fanboys absolutely on life tilt. Just the imagery alone likely draws folks out of the shadows to see the live action version of the popular manga comic, Ghost in the Shell. But take one look at the trailer for this film and you can see some serious flaws in production. It's a telling sign when of a troubled film when you can't understand the general plot line from the marketing. It might mean there simply is no plot, but rather a mash up of years of the comic storylines and arcs. Frankly, I had no idea what was going on here except a bunch of shooting, Johansson looking a bit weird, more shooting, some robotics, shooting, and a some CGI bits . That is a bunch of red flags.
Director Rupert Sanders has one other big budget meh showing with Snow White and the Huntsman (49%), and I suspect this one gets a similar critical response. While fans of the original might like the live action version (think Resident Evil), I can't see any scenario where this appeals to a broader audience (Scarlett or no Scarlett). It just looks too hacky and niche to work.
Is there anything scarier than a baby in a suit? Something's just so disconcerting about a little kid who could (potentially) be in full control of the world around them. Makes me feel very uncomfortable. But so goes the story of the Boss Baby, who's set to uncover an evil world plot about the inequality of love being dispersed throughout the world while also earning the ire of his new older brother. Does the plot sound like a mess? I'm glad to hear that, because it did to me too, and the critical consensus is already heading towards the dumpster.
DreamWorks has betting hitting some solid Rotten Tomatoes numbers in recent years with Trolls (74%) and Kung Fu Panda 3 (87%) as their most recent critical wins. Over the long term they've been solid with most movies hitting around 70% or higher. But this one's going to miss bad. Most critics agree that it has some laughs, but the premise makes little to no sense, and the story is completely lacking. I can't imagine it gains much traction as the week goes on and this could end up as the studio's worst reviewed film.
Overall, it was a solid week for the Rotten Watch. Two out of the three predictions fell within my 10 percent range of success, with one miss that I don't even feel that bad about. First off, CHiPs (Predicted: 30% Actual: 20%) just sucked and critics said it loud. It was pretty easy to see this one coming. When a comedy trailer doesn't give you much in the way of laughs then you can pretty much see the writing on the wall. I'm a big Dax Shepard fan, but this one missed the mark. When you go the comedy remake route with an old 80's show it's important to hit all of the comedic notes. It didn't happen here.
Meanwhile, Life (Predicted: 76% Actual: 67%) fell just within range of my prediction. It dropped some over the course of the week, with more and more critics realizing/coming to grips with a movie that is basically a remake of an 1970s classic. Now, that shouldn't doom a movie right from the start. Plenty of these kind of homages play well with critics, and this one was fine. But critics didn't go crazy about the story of astronauts who are terrorized by an alien on their ship.
And finally, I missed on Power Rangers (Predicted: 25% Actual: 46%), and I had actually assumed my guess would be way too high. I saw a scenario that had this film way into the single digits. But it came close the middle with some critics recognizing it for being better than the source material and fun enough to appeal to a large audience.
Next time around we've got The Case for Christ, Going in Style and Smurfs: The Lost Village. It's gonna be a Rotten Week!
Your Daily Blend of Entertainment News
Doug began writing for CinemaBlend back when Terminator: The Sarah Connor Chronicles actually existed. Since then he's been writing This Rotten Week, predicting RottenTomatoes scores for movies you don't even remember for the better part of a decade. He can be found re-watching The Office for the infinity time.
Your Daily Blend of Entertainment News
Thank you for signing up to CinemaBlend. You will receive a verification email shortly.
There was a problem. Please refresh the page and try again.