Why The Life Ending Was Always Going To Happen That Way, According To The Director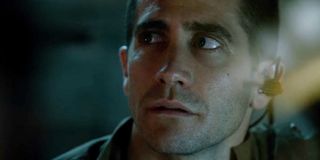 Life director Daniel Espinosa has revealed that he threatened to quit the movie if the studio planned on changing the ending to Paul Wernick and Rhett Reese's script. Clearly the conclusion was one of the main reasons why the Safe House director signed up for Life in the first place. So much so that when he originally sat down with Skydance to discuss his potential involvement with Life, he made it clear that he wasn't interested in testing a number of different endings. Espinosa explained:
WARNING: There are major SPOILERS ahead for Life. So if you haven't seen the film yet and don't want it ruined for you, then don't continue ahead. Instead, click on this.
Those of you who have seen Life can attest that the gripping conclusion is probably the film's finest sequence. Just to recap, as the sole remaining survivors of the International Space Station, David Jordan (Jake Gyllenhaal) and Miranda North (Rebecca Ferguson) hatch a plan that will see David lure the alien Calvin into an escape pod and then float off into the abyss of space, while Miranda uses the other escape pod to navigate back down to Earth. However, once inside the pod, Calvin fights with David and manages to divert it to terra firma. At the same time, Miranda hits debris and is catapulted out into space. Once down on Earth, David pleads with a group of fisherman that saw him crash-land not to open the pod door. However, they're unable to understand him, and as more fishing boats arrive, the screen then fades to black.
Considering what we saw Calvin do to the other four members of the International Space Station in Life, it's safe to say that Earth and its inhabitants are going to have their hands rather full with trying to deal with the monstrous creature. Especially if they're as idiotic as Hugh Derry (Ariyon Bakare), whose affinity for Calvin caused all kinds of problems for his fellow members of the International Space Station.
It's refreshing to hear a director fighting so vehemently for the rightful conclusion to a film. Sure, studio involvement is sometimes warranted. Just look at how Lucasfilm was reportedly able to salvage Rogue One with reshoots over the summer. But, as Daniel Espinosa made clear to Business Insider, any other ending to Life simply wouldn't have fit, particularly since Espinosa clearly had a meticulous vision for how to bring Paul Wernick and Rhett Reese's script to life in a gripping manner. Something that he more than achieved, even if the rest of Life wasn't quite up to this standard.
Your Daily Blend of Entertainment News