What The Batgirl Movie May Be About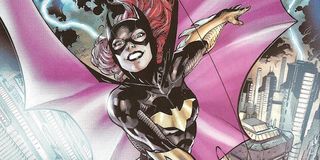 Batman's corner of DC Comics is already primed to be getting a lot of attention in the DC Extended Universe through the Caped Crusader's solo movie, a Nightwing movie and Gotham City Sirens, not to mention several of his adversaries popping up in Suicide Squad. Now we can add another player to the list, as today it was reported that a Batgirl movie is also on the way, which could potentially be directed, written and produced by former Marvel heavyweight and overall geek celebrity Joss Whedon. Since the news just broke, there's still a lot we don't know about what this movie will look like, but new details state that it will be using the heroine's early New 52 years for inspiration.
In their coverage of Joss Whedon potentially jumping onto the Batgirl movie, EW not only clarified that Barbara Gordon will be the one wearing the costume (rather than Stephanie Brown or Cassandra Cain), but also reported that the movie will use the New 52 version of the character as a "starting point," specifically from writer Gail Simone's run at the start of the New 52. No other details were provided, but if this information is true, this gives us a solid idea of where we'll find the DCEU's Barbara at the start of her movie and what she's already been through.
Although Barbara Gordon is often serves as Batgirl in various media projects, she actually didn't use the identity in the comics for over 20 years. After being crippled by The Joker in Alan Moore's The Killing Joke, writers Kim Yale and John Ostrander brought her back in the Suicide Squad book as Oracle, who continued to fight crime from her wheelchair as a computer hacker and information broker for the other DC heroes. It was only when The New 52 began in 2011 that Barbara finally reclaimed the Batgirl mantle. Thanks to the continuity changes from the relaunch, Barbara's horrifying encounter with the Clown Prince of Crime occurred only a few years earlier, and after going through an experimental surgery, she regained her mobility and started beating up bad guys as Batgirl again, though she still mentally struggled with the trauma of nearly being killed by The Joker.
So what does this mean for the DCEU Batgirl? Well, it suggests that rather than telling an origin story of how Barbara becomes Batgirl, this movie will see the heroine as a seasoned superhero. However, it's possible this version of the character also went through her own Killing Joke-like traumatic event, and after an unspecified amount of time, she's easing back into the cape and cowl. Whether we would actually Jared Leto's Joker in a flashback being his vile self or if the movie would only refer to the event in passing remains to be seen, but having a Batgirl with experience would line up nicely with the Batman history already established in the DCEU pre-Batman v Superman: Dawn of Justice.
We'll keep you updates on how the Batgirl movie is progressing as more news comes in, but in the meantime, chime in with your thoughts on this potential approach in the comments below.
Your Daily Blend of Entertainment News
Connoisseur of Marvel, DC, Star Wars, John Wick, MonsterVerse and Doctor Who lore. He's aware he looks like Harry Potter and Clark Kent.