Why The DCEU Needs To Adapt The Killing Joke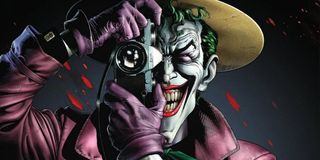 Today has been a huge day for DC fans all over the world. Not only do we now know that a Batgirl movie is in development at Warner Bros., but the studio is also in talks to bring nerd god Joss Whedon on board to write, direct and produce the project. Bringing Barbara Gordon into the DCEU opens up a number of avenues for storytelling in future DC movies, but now seems like the perfect time for the studio to start taking the idea of a film based on Alan Moore's The Killing Joke much more seriously.
It doesn't matter if it's the story of the next Batman movie, the Nightwing movie or even the newly announced Batgirl movie; The Killing Joke needs to be adapted to the silver screen as soon as possible. To make sense of why that story is so vital to the future of the DCEU, we have taken it upon ourselves to compile a list of reasons why it's so fundamental to the The Bat Family and the greater DC universe as a whole. We have quite a few arguments to get to, so let's get started with the fact that an adaptation of The Killing Joke could easily pave the way for David Ayer's Gotham City Sirens.
It Can Introduce Oracle For Gotham City Sirens
With a Batgirl movie and a Gotham City Sirens movie both on the way, it stands to reason that the DCEU will want to introduce the Oracle version of Barbara Gordon at some point. After all, with characters like Huntress and Black Canary acting as the muscle for the Birds of Prey team in Sirens, someone will need to be the brains of the operation when they go up against Harley Quinn, Poison Ivy and Catwoman. While Batgirl is already an icon in the realm of DC Comics, Oracle has arguably become an even more famous and iconic hero for her strong and empowered depiction of the disabled community. If the Batgirl solo movie is going to give us a version of Babs who can kick some serious ass as a street level vigilante, then an adaptation of The Killing Joke could pave the way for her to become the tactical and tech-savvy hero that all know and love.
It's DC's Best Shot At An R-Rated Movie
A studio cannot just make an R-rated comic book movie for the hell of it. Like 20th Century Fox's recent efforts in Deadpool and Logan, a more extreme adaptation of a superhero book needs to make a statement and do something legitimately groundbreaking. In the world of DC comics, there's arguably no better option for that than an adaptation of The Killing Joke. Not only is the book one of the most beloved and infamous comic books ever committed to paper, but it is also a fundamental aspect of The Dark Knight's lore that deserves to be incorporated into the DCEU mythos. To do that properly, you need an R-rating. Insiders at DC recently admitted to The Wrap that they have toyed with the prospect of making an R-rated live-action superhero movie, and if that happens, we think that there's no better option on the table than a silver screen take on Alan Moore's legendary story.
It Can Make Joker A Real Threat
Providing us with a direct adaptation of The Killing Joke is not just a great way to give audiences a more fleshed out and deeper look at Barbara Gordon. It's also an excellent way to improve the DCEU's current incarnation of The Joker. Regardless of your thoughts on Jared Leto's version of the Clown Prince of Crime, it's hard to deny that this take on the character simply doesn't feel very threatening. In fact, Suicide Squad even went so far as to make the death of Jason Todd mainly Harley Quinn's doing, which means his status as the arch nemesis of The Bat Family actually hasn't been earned yet. By adapting The Killing Joke, DC has a newfound opportunity to make Leto's Joker a legitimately terrifying individual, and give him a more profound relationship with every single one of Gotham City's most iconic crime fighters. Joker is arguably the most iconic villain of all time, and it's time for him to feel like that.
The Killing Joke Adds Real Stakes To The DCEU
Sadly, major comic book franchises are afraid to kill characters off permanently. That's what makes The Killing Joke so intriguing. It's not necessarily just a story about life and death as much as it's a story about torture and our heroes' connection to their sanity. The real horror in The Killing Joke is not the fact that Barbara Gordon is at any risk of dying, but the fact that Joker can reach out and permanently change her life in unimaginable ways. It really raises the stakes and makes it terrifying. If we meet a version of Batgirl who loves her life as a vigilante alongside Batman and Nightwing, and then see that life torn away from her by a deranged lunatic, we will understand that she loses much more than the use of her legs. The Killing Joke is a minimalistic story that maximizes the drama by keeping things intimate. The DCEU could use that right now.
It Will Solidify Batman's Return To His No-Kill Policy
As much as we love Grant Morrison's theory that Batman murders Joker in The Killing Joke, the fact of the matter is that it's not true. The Killing Joke entered the main DC canon years ago -- which resulted in Joker going back to Arkham and Barbara Gordon taking on a new role as Oracle. In that regard, a live-action adaptation of The Killing Joke could be the DCEU's best way to definitively tell audiences that this version of The Caped Crusader has learned from the events of Batman V Superman, and he has returned to his original mission statement as a non-lethal vigilante. To have Joker commit arguably his greatest atrocity against The Bat Family, and to then have the Dark Knight let him live (bringing him down "by the book," as Jim Gordon says) will tell the world that this the version of Batman that we grew up with, and he has evolved since his more murderous era.
Of course, that's just our take on the matter. What do you think? Should DC adapt The Killing Joke? What other classic stories do you want to see incorporated into the DCEU? Let us know what you think in the comments section below!
Your Daily Blend of Entertainment News
Originally from Connecticut, Conner grew up in San Diego and graduated from Chapman University in 2014. He now lives in Los Angeles working in and around the entertainment industry and can mostly be found binging horror movies and chugging coffee.