WonderCon 2017 Cosplay Photos: The Best Fans We Saw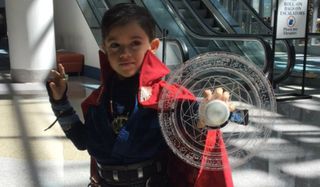 For self-proclaimed geeks all around the world, few events have the ability to induce utter joy quite like a comic book convention. From Comic-Con to WonderCon, these gatherings of fans are occasions where everyone can revel in each other's appreciation for pop culture, and unite over a shared love of fictional universes. There are all sorts of ways to express oneself at an event like this, but one of the most popular methods is costume play, a.k.a "cosplay."
On that note, CinemaBlend was recently in attendance at Anaheim's WonderCon 2017, and we saw a ton of fantastic fan-made costumes. There were quite literally thousands of great outfits on display at the event, but we have compiled a list of some of our favorites that we were able to see. Check out our gallery below -- hopefully, it will inspire you to create your unique outfit for your next convention. Now let's kick gallery off with a young fan who nailed his Doctor Strange look.
There are few absolute rules when it comes to cosplay. It doesn't matter if you're young or old; everyone is welcome. In fact, one guy even got man's best friend in on the action for one of the most adorable cosplay combos of the entire event.
On this page, we have a great balance of Marvel and DC. Above, we see a unique take on Marvel's Bucky "The Winter Soldier" Barnes, and below we see a great version of Catwoman from Batman: The Long Halloween, and Artemis from Young Justice.
If you have ever traveled through the apocalyptic, nuclear wasteland from the Fallout games, then the above cosplay designs should be extremely familiar to you. More specifically, these two in the next photo appear to take ample inspiration from Fallout: New Vegas for their overall designs.
Just when we thought that we had gotten over the cancellation of Firefly over a decade ago, we ran into a pitch-perfect cosplay of Mal Reynolds at WonderCon. All of our nostalgia for that series came flooding back.
The LEGO franchise has become insanely popular over the course of the last few years. While The LEGO Batman Movie was the most recent incarnation of the series to hit theaters, the above picture has us genuinely excited about the possibility of a LEGO Star Wars movie. Think about it, there are so many possibilities.
It's no secret that Star Wars is an incredibly popular pop culture topic of convention cosplay. However, that General Grievous cosplay quickly stood out among the crowded field of Star Wars-related costumes for how intricate it was.
The world of Metal Gear Solid is packed to the brim with memorable characters, so it's not uncommon to see these badasses roaming around a comic book convention. One of the coolest Metal Gear characters that we saw during our time at WonderCon was The Phantom Pain's favorite sniper, Quiet, who you can see in the above picture.
By now you have probably figured out that cosplay is not just an individual endeavor. Some of the best examples of cosplay that we saw at WonderCon this year involved two people taking on iconic comic book duos. The above Logan/X-23 cosplay was a total scene stealer, and DC fans will always love the Harley/Poison Ivy pairing like the one below.
One of the best things about cosplay is the fact that it can bring comic book characters to life in a way that actually feels more authentic than their silver screen counterparts. Few examples that we saw at this year's WonderCon epitomize that idea more than this pitch perfect Rogue from X-Men.
Given the immense popularity of Arrow on The CW, it's not uncommon to see people dressed as Oliver Queen at any comic book convention. That said, this duo deserves special credit for incorporating Cheshire into the mix for an added layer of authenticity. That said, authenticity isn't ALWAYS important, as these two Tyrannosaurus X-Men also stole the show.
Of course, WonderCon was just a warm up. Now we set our sights on San Diego Comic-Con. Will you be in attendance? Let us know what you plan on wearing for cosplay in the comments section below!