Firefly: The Cast Then And Now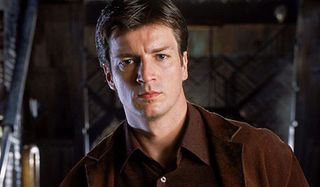 Back in the fall of 2002, Joss Whedon's Firefly was one of the best new shows on the primetime roster. It was a show unlike any other as it managed to combine the genres of space opera with Western action. Sadly, Firefly was cancelled by Fox after only 14 episodes had been produced. Still, the series has been elevated to cult status in the years since its cancellation, and the cast whose space opera careers were cut short have found successes elsewhere. So, let's take a look at just what the former space travelers have been up to in the years since Firefly.
Nathan Fillion
Space cowboy extraordinaire Nathan Fillion found himself part of another Joss Whedon project that would reach cult status when he took on the role of Captain Hammer in Dr. Horrible's Sing-Along Blog, and he had a brief but memorable run as Dr. Adam Mayfair on Desperate Housewives. Fillion really hit the mainstream when he landed the lead role of Richard Castle on Castle, which is currently airing its eighth season on ABC. He appeared as himself on an episode of The Big Bang Theory to take a picture with Firefly fans Leonard and Raj, and his recent stint on Drunk History is definitely worth a watch.
Gina Torres
Gina Torres joined casts of action-packed thrillers following the cancellation of Firefly, including stints on Fox's 24 and ABC's Alias. She made a powerful impression as suicidal cancer patient Bella Crawford on Hannibal, and she has been ruling over a powerful New York legal firm as Jessica Pearson on USA's Suits since 2011. Torres may have traded in her Browncoat duds for high fashion and even higher heels as a lawyer, but Jessica Pearson is every bit as badass as Zoe Washburne.
Alan Tudyk
Alan Tudyk – also known as the man whose character brought "Curse your sudden but inevitable betrayal!" into the language lexicon of sci-fi fans everywhere – found his way onto ABC for sitcom Suburgatory, in which his dentist character Noah Werner was always guaranteed to bring some laughs. Since Suburgatory's cancellation after three seasons, Tudyk returned to the sci-fi sphere…with a twist. He took his considerable talents online with Con Man, a web series about a cult science fiction actor as he tours the convention circuit. Tudyk created, wrote, and starred in Con Man alongside Nathan Fillion and plenty of other familiar Firefly faces.
Morena Baccarin
Morena Baccarin stuck with the small screen after Firefly, winning a prime role on ABC's V as an alien queen with designs on Earth. After V 's cancellation, she spent three years on Homeland before making the jump into DC comic adaptations. She gave voice and shape to artificial intelligence entity Gideon on The Flash in its first season on The CW, then moved over to Gotham on Fox to play Dr. Lee Thompkins. With Baccarin's real life pregnancy written into the show, it looks like Lee may be sticking around as Jim Gordon's lady love for the long haul.
Adam Baldwin
After his gun-toting stint as Jayne Cobb on Firefly, Adam Baldwin went back to his law enforcement character roots. He appeared as an FBI agent on both Bones and short-lived crimes series The Inside. Baldwin had better luck securing a regular acting gig when he moved to series on networks other than Fox as he took on the role of NSA Major John Casey on NBC's Chuck for all five seasons. His latest law enforcement role is as naval commander Mike Slattery on TNT's The Last Ship, which has been renewed for a third season.
Jewel Staite
After the end of Firefly, Jewel Staite jumped aboard a different vessel for five seasons of Stargate Atlantis for the Sci-Fi Channel. She had a lead role on Canadian drama series The L.A. Complex that aired in the U.S. on The CW, then recurred as Caroline Swift on AMC's The Killing. Recently, she starred How to Plan an Orgy in a Small Town, which is just about the most intriguing title for any film in the history of ever.
Sean Maher
Apart from a run on the short-lived series Playboy Club, Sean Maher has spent the years since the end of Firefly making the rounds on the guest star circuit. He reunited with Joss Whedon to play Don Jon in an adaptation of the Shakespeare comedy Much Ado About Nothing in 2012. Maher also appeared on The CW's Arrow in a brief recurring role as villain Shrapnel in Season 2. While Maher was memorable as the bad guy, Shrapnel sadly ended his second episode with his head being blown off. No more Maher on Arrow.
Summer Glau
Like some of her other castmates, Summer Glau founds success in science fiction following Firefly's cancellation. She took on the role of a Terminator tasked with protecting John Connor in Terminator: The Sarah Connor Chronicles for all thirty-one episodes, and she had a recurring part on Dollhouse. She too joined the cast of Arrow as a villain for Season 2. Unlike Shrapnel, Glau's Isabel Rochev stuck around long enough to wreak plenty of havoc for the good guys. More recently, Glau starred in the Crackle legal series Sequestered, playing a juror who was threatened for believing an accused man to be innocent.
Ron Glass
Ron Glass stuck with roles on the guest star circuit following the end of Firefly. He's turned in a variety of projects over the years as both a voice actor and a live-action performer. While fellow Firefly castmates Morena Baccarin, Sean Maher, and Summer Glau all became parts of the DC TV universe, Glass joined the Marvel TV universe for two episodes of Agents of S.H.I.E.L.D. on ABC.
Your Daily Blend of Entertainment News
Laura turned a lifelong love of television into a valid reason to write and think about TV on a daily basis. She's not a doctor, lawyer, or detective, but watches a lot of them in primetime. Resident of One Chicago, the galaxy far, far away, and Northeast Ohio. Will not time travel, but will sneak references to The X-Files into daily conversation.