Should Spider-Man Fans Really Be Worried About Iron Man Overload In Homecoming?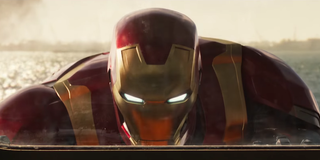 In recent years, Marvel has frequently thrown heroes into solo movies led by other protagonists, like Black Widow and Falcon fighting alongside Steve Rogers in Captain America: The Winter Solider, Scott Lang tussling with Falcon in Ant-Man, Captain America: Civil War...well, no need to elaborate on that one. This trend is dying down anytime soon, and one of the next unofficial pairings we can look forward to is Tony Stark, a.k.a. Iron Man, popping up in Spider-Man: Homecoming. However, after watching the trailers released so far, there's understandably been some concern about if the man who kicked off the Marvel Cinematic Universe in 2008 might overshadow the Web-Slinger in his first solo adventure in this continuity. While there's now more evidence proving that Stark's role in Spider-Man: Homecoming will be fairly substantial, fans shouldn't get too worked up just yet about this movie being a backdoor Iron Man 4.
When we originally addressed this issue back when the first Spider-Man: Homecoming teaser trailers were released in December, almost all of the Tony Stark footage shown was of him as a civilian counseling Peter Parker. The one exception was that shot of him flying alongside the swinging Spider-Man somewhere in New York City, but for all we knew, that could just be one of the final shots from the movie. Maybe Spidey decides to go out for a quick romp with his mentor after beating the bad guys. However, last week's trailer confirmed that Stark will be suiting up in a traditional superhero capacity when he saves the passengers aboard a ferry after Peter unwisely decides to take on The Vulture and his crew.
Since Iron Man's theatrical debut nearly a decade ago, he's risen from being one of the lesser-known Marvel heroes to an A-lister. Some may argue that his popularity has even surpassed the Wall-Crawler's, though I personally wouldn't go that far. Either way, it's not unreasonable to wonder if Iron Man might take too much attention, but going off the supplied content and information put out so far, folks shouldn't be worried about Spider-Man having the spotlight stolen from him. On the contrary, this movie will only work properly if Peter can triumph over evil on his own before the story is over.
Since the new Spider-Man: Homecoming trailer debuted, co-producer Eric Carroll stated that Downey has about "five or six scenes total" in the movie. But even if we didn't know that, it's important to remember that Spider-Man: Homecoming is applying a "coming of age" type of approach with Peter Parker's superhero journey. Although Peter had been getting into spider-shenanigans for months when Tony Stark found him in Captain America: Civil War, it was receiving that special Spider-suit and taking part in the Germany battle that kicked him up to the next level. Now that he's back stateside, he has a lot of technological goodies at his disposal when he's swinging around New York City and Washington D.C. But there's an important lesson he needs to learn. No, not "With great power comes great responsibility." No, he needs to get it in his head that there's more to being a good hero than having cool gadgets, something Tony learned in Iron Man 3.
Following his disastrous attempt at confronting Vulture's crew and keeping the people aboard the ferry safe, Peter will be forced to hand back the suit Tony Stark built for him. The genius billionaire playboy philanthropist also declares that if Peter thinks he's nothing without the suit, then he shouldn't have it. And that's where Spider-Man: Homecoming will strike the right tone. Spider-Man has had no shortage of team-ups in the comics, but many of his best adventures have been the ones where he's had to use his own ingenuity and intellect to survive and beat the bad guy. Now that his mentor has taken his cool suit away, Peter will have to rely on his powers, original web-shooters and natural quick thinking if he's to beat Vulture and his crew. I suspect that by the time the movie concludes, Tony Stark will give Peter back the Spider-suit, or at the very least give him a new suit that's a cross between the enhanced costume and his "onesie" outfit. But at least by then the teenager will have one victory to completely call his own under his belt.
It'd be naive to say that Robert Downey Jr's presence in Spider-Man: Homecoming won't put more butts in seats. Still, Marvel seems to be pushing Tom Holland's Spider-Man to be one of the MCU's new prominent superheroes (wisely so), and if the Wall-Crawler can't make it through one movie without having someone more experienced win his battle for him, then what's the point of even making a new Spider-Man movie? Yes, Iron Man will show up to give Peter counsel and get him out of a jam or two, but at best we can consider his role to be supporting. When it really counts, Spider-Man will be the one who truly shines, and although we're still months way to seeing how this tale turns out, it's practically guaranteed Peter will walk out of it as a better protector and better person. And who knows, given how they seem to be pushing the father/son dynamic between Peter and Tony, maybe the latter will go through more self-improvement, too.
Spider-Man and Iron Man will jump back into action when Spider-Man: Homecoming swings into theaters on July 7. What do you think of our assessment? Do you agree that Iron Man won't overshadow Spidey, or are we way off-base? Sound off in the comments below!
Connoisseur of Marvel, DC, Star Wars, John Wick, MonsterVerse and Doctor Who lore. He's aware he looks like Harry Potter and Clark Kent.
Your Daily Blend of Entertainment News
Thank you for signing up to CinemaBlend. You will receive a verification email shortly.
There was a problem. Please refresh the page and try again.