Will Spider-Man: Homecoming Have An Iron Man Problem? Let's Discuss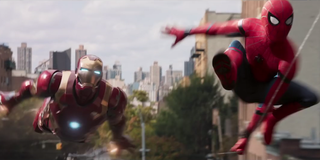 Last week the first Spider-Man: Homecoming trailers (domestic and international) debuted, and while their main appeal were obviously seeing pieces of Peter Parker's life, both in and out of the red and blue costume, they also included a few moments with Tony Stark. It's been public knowledge since April that Robert Downey Jr. will be reprising Stark, and by the look of things, he'll continue to be Peter's mentor as the teen continues his superhero journey. However, the big surprise came near the end of both trailers with that shot of Spider-Man and Iron Man flying/swinging through New York, confirming that Stark will don his armor at some point during the movie. It was a geektastic sight to be sure, but now that the initial trailer excitement has worn off, we're concerned about if Spider-Man: Homecoming will rely too heavily on Iron Man.
Of all the other MCU superheroes who could have appeared in Spider-Man: Homecoming, Tony Stark's inclusion makes the most sense. He was the one who brought Peter Parker into the wider world of super heroics in Captain America: Civil War by drafting him onto his team during the conflict over the Sokovia Accords. He gave the lad an upgraded Spider-suit, snuck even more technological goodies into web-shooter after the battle was over and is now effectively the first person Peter will go to if he needs advice on the costumed crimefighting life. Robert Downey Jr's presence also lets the casual moviegoers out there know that Spider-Man: Homecoming takes place within the Marvel Cinematic Universe, unlike the previous two Spider-Man series. So yes, having a normal-suited Tony Stark pop into the first MCU Spidey movie makes sense, but if he's going to be armoring up in Spider-Man: Homecoming, now there's possible danger of Iron Man overshadowing the eponymous protagonist!
Spider-Man will always be one of the most recognizable superheroes in pop culture, but thanks to Robert Downey's Jr's performance across currently seven movies over eight years, Iron Man has also now become an A-lister. In fact, even with all the other popular Marvel heroes who've been introduced over the years, from Chris Evans' Captain America to Chadwick Boseman's Black Panther, Downey's Tony Stark is still effectively the MCU's main figure, both for his colorful personality and because he was the one to kick all this off (from our perspective). Surely I'm not crazy for now wondering if Tony Stark is going to swoop in during Spider-Man: Homecoming to help Peter defeat Vulture, right? Sure, from a comic book team-up perspective that's exciting, but this is a Spider-Man movie first and foremost. Peter needs to be the one responsible for taking down his super villains.
Remember, Spider-Man: Homecoming is giving us a Peter Parker who is still getting used to being a costumed adventurer. In Captain America: Civil War, Peter had been fighting crime and saving civilians for only six months, and from how it looked in the previews, not a lot of time has passed since he participated in the Germany battle. This is a story about him not only navigating the challenges of adolescence while balancing his superhero life, but also about him becoming a better superhero in general. It's one thing if Tony Stark is offering Peter advice throughout the story, but if Iron Man drops in in to save the day, Peter won't earn how to defeat these enhanced adversaries on his own. If there's one thing that's crucial to a Spider-Man movie, it's seeing the Wall-Crawler delivering the knockout punch or incapacitating an opponent with fancy webwork.
Of course, it's possible that this is nothing to worry about. For example, maybe that Spider-Man/Iron Man shot from the Spider-Man: Homecoming trailers occurs near the end of the movie. Vulture and his gang have been defeated, so Spidey and Iron Man decide to celebrate by taking a "drive" through New York together to see if they can track down trouble. If that's the case, I would give Marvel the side eye for including that kind of a scene in only the first preview, but that would be preferable to Tony Stark pummeling Vulture with a gauntleted fist or knocking him out with a repulsor blast. Still, until the movie is actually released next summer, I'll keep wondering in the back of my mind if Tony Stark will grab too much of the spotlight for himself.
Spider-Man: Homecoming will swing into theaters on July 7, 2017 with Tony Stark in tow. Let us know what you think about the movie potentially including too much Tony Stark/Iron Man in the comments below.
Your Daily Blend of Entertainment News
Connoisseur of Marvel, DC, Star Wars, John Wick, MonsterVerse and Doctor Who lore. He's aware he looks like Harry Potter and Clark Kent.
Your Daily Blend of Entertainment News
Thank you for signing up to CinemaBlend. You will receive a verification email shortly.
There was a problem. Please refresh the page and try again.