10 Crazy Things We Spotted In The Kingsman 2 Supercut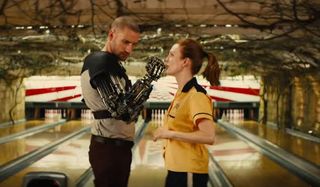 With a surprise "supercut" of action and madness, Kingsman: The Golden Circle has burst on the movie scene with a tantalizing look at what's to come for writer/director Matthew Vaughn's follow-up to the fantastic Kingsman: The Secret Service. But just how do you top a film that's already pretty weird and fast paced? You double down on both accounts, and that's what the supercut for the new film just did, as it provided a blitz of visual information that we picked 10 crazy bits out of. Join us now, as we parse out what these images might mean for the Kingsman sequel.
The Golden Circle
The titular organization sounds like the perfect baddies for a Bond homage, and with Kingsman: The Golden Circle's villains, it looks like they take their name literally. A melted gold band is practically branded into the neck of an unknown figure, more than likely signaling their allegiance to The Golden Circle, as well as hurting pretty bad. Judging by the jungle setting of some later clips, this could mean that the villains are obsessed with the Incas...or that they just like the tropics.
A Head Of Statesman
While we've gotten a look at Jeff Bridges' head of the Statesman clandestine organization before, this is probably the most Jeff Bridges-esque shot we've seen of the character yet. The leader of the Kentucky-based organization with a penchant for liquor-inspired code names, he has some golden trophies to show off, and a cowboy hat as big as his attitude. Here's hoping Bridges doesn't turn out like Michael Caine and reveal himself as a traitor to the Kingsman.
Poppy And The Beast
Speaking of Jeff Bridges, it's been well reported that his Big Lebowski co-star, Julianne Moore, was cast as the antagonist in Kingsman: The Golden Circle. So this image of Moore's baddie, Poppy, standing in her own personal bowling alley kind of makes us smile. Perhaps there will be a Lebowski flavored reunion/fight between the two co-stars in this location? Or maybe it's just another sign of Poppy's arrested development, complete with the stereotypical strong armed protector.
Meet Jack Daniels
We previously got a look at Channing Tatum's Agent Tequila in a photo released from Kingsman: The Golden Circle, but now we've gotten a glimpse at his partner. Aptly named Jack Daniels, the role is played by Game of Thrones and The Great Wall star Pedro Pascal, and he looks positively badass. In addition to teaching Eggsy some target practice in the shot above, we also see Jack Daniels drop in on a bar in truly earth shattering style. We wouldn't be surprised if Pascal's rogue ends up stealing the movie.
Random Michael Gambon?
It looks like the Kingsman have gotten a new leader, and it's Dumbledore! Yet another tongue-in-cheek casting choice for Kingsman: The Golden Circle is none other than Michael Gambon. This was a legitimate surprise, as there wasn't even a whisper or an IMDB entry to spoil the fact that Gambon is participating in this new round of Kingsman action. Though we're inclined to think that this might be just a cameo, it's still pretty cool that Michael Caine's shoes have been filled by another legendary Michael.
Bennie And Jet
In the kingdom known as Poppy Land, there are some nifty inventions and a lot of Americana/retro glory. One place that Kingsman: The Golden Circle shows this off is in the "characters" of Bennie and Jet - two mechanical guard dogs that seem like they possess both a harsh bite and an intimidating bark. But the most interesting thing is that their names come straight out of an Elton John song, possibly giving us our first clue as to John's role in the film.
Another Very Special Night With Captain Fantastic
Another attraction in the PoppyLand amusement park is none other than "Another Very Special Night With Captain Fantastic." This is the second Elton John reference dropped in the Kingsman: The Golden Circle supercut, and it suggests a pretty dark role for the well-known songman. The signs seem to be clear that Poppy not only has a huge thing for Elton John and his music, but she's taken her fandom to the point where she's kidnapped him for her own personal amusement.
Meet Poppy
On top of a lot of other glimpses we've gotten of Julianne Moore's Poppy, we got a pretty up close shot of the Kingsman: The Golden Circle villain, and in a particularly interesting pose. With a look of gleeful abandon on her face, Poppy looks to be serving a burger in her kitschy 1950's style diner. Which leads us to believe that this particular foodstuff might have some significance. Honestly, when's the last time anyone's looked that happy about a burger?
Better Living Through Chemistry
As far as the villainous plot in Kingsman: The Golden Circle goes, we're not completely sure what's up just yet. But when your main antagonist has their own cheerful brand of pharmaceuticals, and was previously seen wielding a hamburger as if it was a weapon, you begin to put two and two together. We'll go out on a limb and say that Julianne Moore's Poppy is attempting to sneak some sort of chemical agent into the world's beef supply, making hamburgers so good they'll drive you out of your mind.
A Familiar Face?
Here's the most interesting image we picked out of the Kingsman: The Golden Circle supercut. Now the boring answer as to who this is an image of is probably Eggsy. The facial structure looks similar enough to his, and the image is distorted enough, that there's a good chance Taron Egerton is behind the trigger of that gun. However, there's also a chance that we've been given our teasing first look at the return of Colin Firth's Harry Hart. Should that be the case, we'd like to know who he's gunning down, and why; simply because coming back from the dead doesn't always fare well for heroes.
Kingsman: The Golden Circle is ready to give it up all over again on September 29.
Senior Movies Contributor
CinemaBlend's James Bond (expert). Also versed in Large Scale Aggressors, time travel, and Guillermo del Toro. He fights for The User.
Your Daily Blend of Entertainment News
Thank you for signing up to CinemaBlend. You will receive a verification email shortly.
There was a problem. Please refresh the page and try again.