The Unusual Injury Sharlto Copley Sustained On The Set Of Free Fire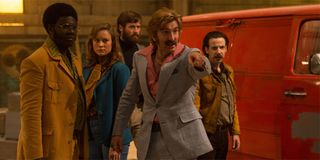 Prop guns made for movies are built to be as safe as possible -- but they're also built to be as realistic as possible. As a result, you won't get hurt standing in front of the barrel, but you better get ready to shield your ears, because they are also incredibly loud. This wasn't a brand new lesson for actor Sharlto Copley in the making of the gun-filled new movie Free Fire, as the actor has had plenty of action experience before, but he still wound up having an accident that could have wound up causing serious damage. Discussing the sound on set in the making of the movie, Copley recently told me,
Sharlto Copley told me this story about his dangerous experience on the set of Free Fire when I sat down with both him and co-star Sam Riley last week during the Los Angeles press day for the film. Having personally had the experience of hearing deafening gun shots on an enclosed movie set, I asked the two actors if there were any concerns about their ear safety in a movie that is essentially a 90-minute long shootout. As you can see in the above story, the production wound up providing an educational moment for Copley, as he could have possibly either deafened himself, or given himself permanent tinnitus thanks to a misplaced ear plug.
That's not the end of this story, however, as evidently Sharlto Copley had an interesting overall experience with gunshots and safety equipment throughout the making of Free Fire. When I sat down later in the day with director Ben Wheatley (who was paired with actor Armie Hammer), I asked the same question about the noise level on set, and he told me another story about his South African star's fun time with ear plugs during the making of the movie. Evidently Copley didn't actually want to wear them during the making of the film because it wasn't a part of his character... but his mind was changed on that matter shortly after the literal shooting began. Wheatley told me,
In all seriousness, we're obviously very glad that Sharlto Copley wound up being okay after the production -- and it's a lesson to take for any actor out there about safety taking priority over performance.
You can watch Sharlto Copley, Sam Riley, Ben Wheatley and Armie Hammer talk about the crazy noise level on the set of Free Fire in the video below -- which also includes a fun bonus story from Hammer about the weird challenge of doing dialogue scenes with ear plugs in:
Written and directed by Ben Wheatley, Free Fire is an ensemble film set in the 1970s and centers on a gun deal gone bad. Two groups meet in a warehouse for an exchange that is meant to supply munitions to the rebel fighters in Ireland, but personal conflicts and double-dealings quickly lead everything to go to hell. Before long, everyone is nursing their own personal bullet wound and praying to be either the last man or woman standing. Brie Larson, Sharlto Copley, Sam Riley, Armie Hammer, Cillian Murphy, Jack Reynor and more star, and the film arrives in theaters this Friday, April 21st.
Assistant Managing Editor
NJ native who calls LA home and lives in a Dreamatorium. A decade-plus CinemaBlend veteran who is endlessly enthusiastic about the career he's dreamt of since seventh grade.
Your Daily Blend of Entertainment News
Thank you for signing up to CinemaBlend. You will receive a verification email shortly.
There was a problem. Please refresh the page and try again.