14 Upcoming Movies That Actually Look Great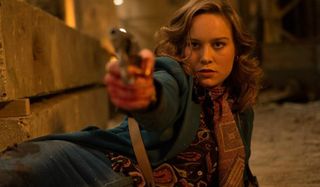 Although 2016 was arguably a letdown at the movies, 2017 is already shaping up to be a major improvement. Spring has only just begun, and some movies have already debuted in theaters that are pretty much guaranteed to go down as some of our favorites. It's a phenomenally promising start, and it certainly bodes well for the movies that have yet to premiere this year.
We sincerely hope that your calendars are relatively free for the next few months because there are some genuinely enthralling films on the horizon. On that note, we have compiled a list of the 14 upcoming films that you should definitely keep an eye on going into the summer. There are plenty of great movies to get to, so let's kick this off with Anne Hathaway's latest film: Colossal.
April 7 - Colossal
Kaiju movies have a long and storied history in Hollywood, but Colossal looks like a fascinating twist on the formula. Centering on a young woman (Anne Hathaway) whose life is in shambles, the film follows her as she discovers that she finds that she is in complete control of a giant monster rampaging through South Korean cities. Early buzz on Colossal is almost universally positive, so all eyes are on this black comedy to take the monster movie genre in a very new direction.
April 7 - The Void
The horror renaissance has been an absolute treat to watch unfold over the last few years, and it appears to be in full swing with the upcoming release of The Void. A love letter to the 1980s (in the vein of Stranger Things), The Void centers on a group of people in a hospital surrounded by members of a violent cult as monsters begin to run wild. Expect practical effects and all of the blood and terror that you can take.
April 14 - The Fate of the Furious
The Fast & Furious franchise continues to get faster and more furious, and it will once again come to a head when The Fate of the Furious hits theaters on April 14. Positioning Vin Diesel's Dom Toretto as the "villain" of the story, the eighth installment in the series has shifted its focus to give Dwayne Johnson's Hobbs and Jason Statham's Deckard Shaw the spotlight. Expect muscles, muscle cars, and an insane number of explosions when this one debuts.
April 14 - The Lost City of Z
Featuring a star-studded cast, which consists of Robert Pattinson, Sienna Miller, Charlie Hunnam, and Tom "Friendly Neighborhood Spider-Man" Holland, The Lost City of Z centers on British explorer Percy Fawcett as he treks through the Amazon rainforest in the early 20th century and discovers the remains of a lost culture. The Lost City of Z has already garnered a ton of fanfare with critics, so this is one adventure that you won't want to lose in the shuffle.
April 21 - Free Fire
It's been a while since we last saw a good, old-fashioned gunfight movie in theaters and Ben Wheatley's Free Fire looks like it will definitely fill the void. A stylish, entertaining, and (most importantly) violent thriller, Free Fire stars Armie Hammer, Sharlto Copley, Brie Larson, and Cillian Murphy as a group of criminals trying to survive a gunfight in a warehouse after a deal goes south. Expect riotous laughter and buckets of blood with this one.
April 28 - The Circle
Who would've ever thought that Tom Hanks would make such a compelling villain? Based on Dave Eggers' 2013 book of the same name, The Circle centers on a brilliant young woman (Emma Watson) who takes a dream job at a prestigious Silicon Valley tech company. However, once she begins working for the company, she finds herself in a bizarre experiment that pushes all ethical boundaries about humanity's right to privacy in the modern digital age.
April 28 - Sleight
Equal parts Chronicle and Dope (with a dash of Now You See Me thrown in for good measure), Sleight tells the story of a young street magician struggling to make ends meet while coping with the death of his parents in Los Angeles. The kicker? He actually has magical abilities and can truly pull off these bizarre illusions. The film looks like a gritty and gripping drama that eschews the trappings of traditional superpower-based movies, and a grounded breath of fresh air from the blockbuster scene.
May 5 - Guardians of the Galaxy Vol. 2
Guardians of the Galaxy Vol. 2 isn't just one of the most highly anticipated films of the next few months. It's one of the most highly anticipated films of the entire year. Three years after our first adventure with this team of misfits, James Gunn has finally returned to give Star-Lord (Chris Pratt), Gamora (Zoe Saldana), and the rest another delightful sci-fi romp in the Marvel Cinematic Universe. Welcome back, Guardians; we missed you so much.
May 12 - King Arthur: Legend of the Sword
After a consistent series of delays, Guy Ritchie's take on the classic King Arthur legend will finally debut this May. Starring Charlie Hunnam as the titular mythological figure, King Arthur: Legend of the Sword will use Ritchie's particular talents for crafting stories around scrappy street hustlers and completely reinvent everything that we think we know about this king. It worked wonders for Sherlock Holmes, and we believe that it will work even better this time around.
May 12 - The Wall
Single location thrillers are a consistent box office draw, particularly during the summer. Last year we had The Shallows, and this summer will follow suit by taking the small-scale terror to the Middle East. The Wall centers on two American snipers who find themselves pinned down in the middle of nowhere by an insurgent sharpshooter. The film stars John Cena and Aaron Taylor-Johnson, and it looks like a tense, emotional roller coaster that we won't want to miss.
May 19 - Alien: Covenant
After the lackluster reception to Prometheus, Ridley Scott has finally returned to the proper Alien franchise and continuity in earnest for what looks like one of the scariest Alien films of all time. Simultaneously a prequel to the Alien movies and a sequel to Prometheus, Alien: Covenant tells the proper origin story of the Xenomorphs while also offering up plenty of grisly and gory deaths along the way. It looks like a horror/sci-fi fan's dream come true.
May 26 - Pirates of the Caribbean: Dead Men Tell No Tales
It's been a few years since we last saw Captain Jack Sparrow on the silver screen, but that's poised to change with the upcoming fifth installment in the Pirates series. Reactions to early screenings of Pirates of the Caribbean: Dead Men Tell No Tales have indicated that it may be the best entry in the series since The Curse of the Black Pearl, so let's keep our fingers crossed that it revitalizes the high seas franchise.
May 26 - Berlin Syndrome
Hot off of the heels of her stellar performance in last year's Lights Out, Teresa Palmer is getting back into the thriller genre with Berlin Syndrome. Centering on a young woman who goes home with a stranger one night while backpacking through Germany, the story follows her as she discovers that he has trapped her in his apartment -- refusing to let her leave. Early buzz surrounding the film is very impressive, so this could be a big win for director Cate Shortland.
May 26 - Baywatch
Beach season really kicks into high gear at the end of May, so it only makes sense that a Baywatch movie will hit theaters on Memorial Day weekend. Using the tried and true 21 Jump Street formula, Baywatch is a hard reimagining of the classic lifeguard series that seems to perfectly capitalize on the comedic chops of The Rock and Zac Efron. The film looks ridiculous, and that's exactly what we want from our R-rated raunch comedies.
What major 2017 movie premiere are you most excited about? Let us know in the comments section!
Your Daily Blend of Entertainment News
Originally from Connecticut, Conner grew up in San Diego and graduated from Chapman University in 2014. He now lives in Los Angeles working in and around the entertainment industry and can mostly be found binging horror movies and chugging coffee.