Why Kylo Ren's Scar Was Changed For Star Wars: The Last Jedi, According To Rian Johnson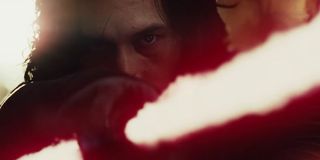 Lucasfilm finally threw Star Wars fans a bone last week by releasing the first trailer for The Last Jedi during Star Wars Celebration. Since this is just the opening salvo of Episode VIII's marketing, the teaser trailer followed in Star Wars: The Force Awakens' footsteps by giving viewers a solid helping of new footage without revealing any major plot points. Days later, one astute fan noticed that Kylo Ren's scar isn't located in quite the same spot as it was at the end of The Force Awakens. Here's what director Rian Johnson had to say when asked online about the placement.
For those who haven't watched The Force Awakens in a while or weren't paying close attention to Kylo Ren's facial injuries, the scar he received during his lightsaber duel with Rey on Starkiller Base was originally running down the right side of his face, while the scar seen in The Last Jedi trailer is directly above his right eye. You can compare the scar placements below, but Rian Johnson decided to set the record straight on Twitter by explaining that it was just a simple adjustment so that it didn't look "goofy."
While this does present a slight continuity error, the fact is that Kylo Ren's scar is only seen for a couple seconds in The Force Awakens, because soon after, he was separated from Rey, and they both hightailed it off Starkiller Base as the planet was collapsing. With Rian Johnson taking over directing duties from J.J. Abrams, he's entitled to make some slight changes here and there, especially since it looks like we'll be seeing more of Kylo Ren's face in The Last Jedi judging by his destroyed helmet in the trailer. It's also poetic that Kylo Ren's scar has been moved to above his eye, since his grandfather, Anakin Skywalker was scarred in almost the exact same place during The Clone Wars.
While Kylo Ren's scar placement is beyond his control, the young Dark Side user will reportedly be making some deliberate changes in The Last Jedi so he resembles Darth Vader more closely. This will include wearing a long, flowing cape and piloting a specially-designed TIE Fighter, although the latter will resemble the TIE Strikers more than the ship Vader was in during A New Hope. It's also rumored that he'll travel to some familiar Star Wars planets in either The Last Jedi or Episode IX that his Sith Lord grandpa visited way back when. Beyond that, the future is uncertain, but judging by that glare of his in the new trailer, Kylo Ren is still comfortable being sinister.
Star Wars: The Last Jedi will be released on December 15.
Connoisseur of Marvel, DC, Star Wars, John Wick, MonsterVerse and Doctor Who lore. He's aware he looks like Harry Potter and Clark Kent.
Your Daily Blend of Entertainment News
Thank you for signing up to CinemaBlend. You will receive a verification email shortly.
There was a problem. Please refresh the page and try again.