JJ Abrams Finally Explains What Kylo Ren Was Thinking In That Pivotal Han Solo Scene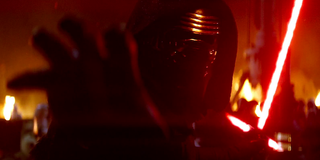 Even though Star Wars: The Force Awakens came out nearly a year ago, Disney and Lucasfilm are still trying to squeeze as much out of the cinematic re-entry back into a galaxy far, far away as possible. Despite the movie being released on home media back in April, the 3D Collector's Edition is arriving in the United States and Canada next month. Along with including The Force Awakens in four different versions, this set will include several news bonus features, including an audio commentary from director J.J. Abrams. Thanks to a taste of that commentary, we've learned that Kylo Ren didn't originally plan on killing Han Solo when they reunited.
In a snippet from J.J. Abrams' The Force Awakens commentary, provided by USA Today (opens in new tab), the director stated that when the father and son met on that bridge, Kylo was actually being convinced by Han to walk away from the dark side. However, he eventually realized that there was no turning back from the path he had chosen, which is why he chose to stab dear ol' dad. In Abrams' words:
J.J. Abrams continued by saying that he received help from Jon Kasdan, son of longtime Star Wars writer Lawrence Kasdan, to make sure there was a lot of "raw emotion and uncertainty" in the scene. The video ends with the director wisely pointing out that any time two Star Wars characters meet on a thin bridge without any safety railings that's "10 miles above the ground," it won't end well. Seriously, you'd think that there would be better safety regulations in this universe.
For those who need a refresher on the scene that surely shocked many longtime Star Wars fans, Han Solo confronted Kylo Ren, originally called Ben, on Starkiller Base to fulfill his promise to Leia to try to sway their son from the dark side. Unfortunately, this proved unsuccessful, and Kylo ignited his lightsaber into the notorious smuggler. Han touched his son's face one last time before falling off the bridge and into Starkiller Base's reactor, and Chewbacca, Rey and Finn were all devastated to see their friend killed in front of them. Since The Force Awakens was only the first entry in this new Star Wars trilogy, we'll have to wait and see whether Kylo Ren will ever find redemption for his crimes (like his grandfather) or if he's past the point of no return.
Kylo Ren will return to wreak more havoc in Star Wars: Episode VIII on December 15, 2017. After that, fans will get to see a younger Han Solo in action when his spinoff film is released on May 25, 2018.
You can pre-order the Star Wars: The Force Awakens 3D Blu-ray here.
Connoisseur of Marvel, DC, Star Wars, John Wick, MonsterVerse and Doctor Who lore. He's aware he looks like Harry Potter and Clark Kent.
Your Daily Blend of Entertainment News
Thank you for signing up to CinemaBlend. You will receive a verification email shortly.
There was a problem. Please refresh the page and try again.