The Rock Just Got Us Really Pumped For A Fast And Furious Spinoff With Jason Statham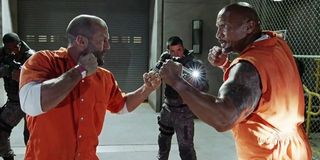 Last week it was confirmed that the team behind The Fast And The Furious franchise are moving full steam ahead with a Jason Statham and Dwayne Johnson-led spin-off film, which provoked fans are of titanic action to instantly rejoice in celebration. Dwayne Johnson has now taken to Instagram to already start the jive talking, laying down the gauntlet to Jason Statham with an impassioned diatribe about their impending cinematic duel that will instantly get fans pumped. You can read it over and over again by glancing below.
This Instagram post is further proof that Dwayne Johnson isn't just currently the king of Hollywood, but he's also the sultan of social media, too. With over 84.4 million followers on Instagram, Dwayne Johnson is able to spread the good word to his legion of fans with a simple post. The fact that The Fate Of The Furious just broke box records and is well on course to eclipse Furious 7 as the most successful installment in the universe, and the fact that Dwayne Johnson will follow these up with Jumanji and Baywatch before the year is out, proves that he's doing a bang up job of getting fans into theaters to see his movies.
But while each of these movies look particularly dazzling for their own array of reasons, the potential match-up of Dwayne Johnson and Jason Statham is especially exciting, especially considering just how well they played off of each other in both Furious 7 and The Fate Of The Furious. You can see Dwayne Johnson's Luke Hobbs and Jason Statham's Deckard Shaw meeting for the very first time, and then instantly getting into a fight, in this clip from Furious 7 below.
Following on from The Fate Of The Furious, which saw Deckard Shaw brought into the Fast And Furious posse to try and bring down Dominic Toretto, it's safe to assume that Deckard and Hobbs will actually be working alongside each other in the film. But I for one actually think they should be pit against each other, because having Dwayne Johnson and Jason Statham in the same film and not allowing them to exchange vigorous fisticuffs just seems like a wasted opportunity.
Your Daily Blend of Entertainment News
Your Daily Blend of Entertainment News
Thank you for signing up to CinemaBlend. You will receive a verification email shortly.
There was a problem. Please refresh the page and try again.