Why Disney Was Annoyed About Ferngully: The Last Rainforest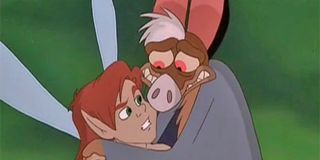 Twenty-five years ago, a group of Australian animators finally got to make an environmentally focused kids flick that had been in gestation for a long time. That movie was Ferngully: The Last Rainforest, a flick now known for its lush setting and the inclusion of Robin Williams as a zany bat named Batty Koda. While it would seem strange that a rival animation studio might care about a movie being made by other studios, Ferngully's director Bill Kroyer, a Disney alum himself, recently explained that the studio was not happy when it found out Ferngully was being made. Kroyer elaborated about why then studio head Jeffrey Katzenberg was displeased about the turn of events, saying:
Clearly, Bill Kroyer was not totally blameless when it came to the rift between him and the Disney head. Obviously, he did poach some of Disney's prime animators, but according to his comments to Vanity Fair, Katzenburg responded swiftly. The reason he thinks the studio was most annoyed was not even because Ferngully: The Last Rainforest had enticed some people to move over. According to Bill Kroyer, it all had to do with Aladdin and Ferngully both featuring Robin Williams.
At the time these two movies were coming together at their respective studios, it became clear that Robin Williams would be doing voice acting for both films, which supposedly didn't make the House of Mouse all that happy. The issue was that Ferngully: The Last Rainforest had signed on Robin Williams first, so there wasn't much that Disney could do about Robin Williams doing two animated movies at once, except berate the popular actor.
Jim Cox said that Williams took the attitude that he wanted to do both movies and if Disney wanted him to stay on Aladdin, he would do both movies. Per Cox:
The two characters and movies are very different, ultimately. It's also hard to imagine a studio getting mad because an actor has decided to take two similar projects. If studios and the heads of projects were still constantly freaking out about this sort of thing, it's unlikely that we would ever have gotten Ryan Reynolds as Deadpool or Josh Brolin as multiple comic book characters. There are likely still behind-the-scenes things like this happening on occasion, but I doubt anyone is getting flack for doing two dissimilar animated movies in a year.
At the end of the day, Aladdin has lived on as a wildly popular Disney hit and a live-action version is even being made. Fergully: The Last Rainforest also still has a bit of a cult audience. Both movies are better because Robin Williams took on roles, even if it was aggravating.
Amazing Race & Top Chef superfan with a pinch of Disney fairy dust thrown in. Theme park junkie. If you've created a rom-com I've probably watched it.
Your Daily Blend of Entertainment News
Thank you for signing up to CinemaBlend. You will receive a verification email shortly.
There was a problem. Please refresh the page and try again.