This Rotten Week: Predicting Guardians Of The Galaxy Vol. 2 Reviews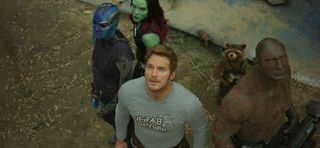 There's only one movie on the docket this week, but it's a big one, as Marvel Studios and writer/director James Gunn take us back to the farthest reaches of the Marvel Cinematic Universe. Get ready for a return to the comic book movie franchise with Guardians of the Galaxy Vol. 2. It's gonna be a Rotten Week!
Just remember, I'm not reviewing these movies, but rather predicting where they'll end up on the Tomatometer. Let's take a look at This Rotten Week has to offer.
The last time we met our intrepid quintet of Star-Lord, Gamora, Drax, Rocket and Groot, they had kept the Infinity Gem out of the hands of Thanos, and were off to explore the galaxy which they guard. Guardians of the Galaxy (91%) was excellent in every aspect of what you'd want from a big budget blockbuster. It had tons of laughs, a solid story, a wide-ranging group of characters each with their own peccadillos, and solid action sequences throughout. Considering the Guardians are/were relative afterthoughts in the pantheon of comic book characters, James Gunn and company handled them deftly and put the group near the forefront of the genre. It was quite an accomplishment - and it looks like the sequel is nearly as good.
James Gunn is back directing Guardians of the Galaxy Vol. 2, and critics are already basically falling over themselves in love with the output. We pick up again with the titular team as they've seen their galactic stars on the rise after the events of first film. From the trailer, it looks like another high-powered space adventure with a lot of the same comedic and visual effect beats that worked in the first film. Critics have it at 87% right now with more than 100 reviews, so it stands to reason this one falls right in line with the original. It's a fantastic franchise debut and looks very much like what we want out of comic book flicks: fun, high octane and funny. Oh and the soundtrack kick ass too.
Last time around we had two solid predictions and one huge "oops" to account for. Let's start with the wild miss first. The Circle (Predicted: 62% Actual: 18%) came out as a critical disaster. There was a wide array of words used to describe this film about tech company user overreach. Those words included (but were not limited to) ham-fisted, frustrating, sloppy, cartoony, plasticky and bland. There were many more to paint the picture of a mess of a film, but you get the idea. Movies like this can crash hard, especially when the all-star cast lends itself to higher-than-normal expectations. Despite the presence of both Tom Hanks and Emma Watson, The Circle didn't get there, and my prediction was way off the mark.
Meanwhile, Sleight (Predicted: 67% Actual: 72%) was a solid win, with critics really taking to the understated nature of the "superpower" flick. It's easy to get carried away with this genre, especially when a character has powers beyond the normal scope of human understanding. But director J.D. Dillard apparently kept the film grounded, and critics appreciated the approach.
Finally, How to be a Latin Lover (Predicted: 39% Actual: 50%) was just outside the ten percent range, and I'll give myself most of a win here. If anything I thought my prediction was going to be a little on the high side, but critics were able to keep it right in the middle. Most of the reviews ranged from "It was fine enough" to "It sucked," with just enough of the former to not land the score in the basement. I couldn't find anyone who outright loved it, but enough thought it passable with the laughs and story.
Next time around we've got King Arthur: Legend of the Sword, Lowriders and Snatched. It's gonna be a Rotten Week!
Doug began writing for CinemaBlend back when Terminator: The Sarah Connor Chronicles actually existed. Since then he's been writing This Rotten Week, predicting RottenTomatoes scores for movies you don't even remember for the better part of a decade. He can be found re-watching The Office for the infinity time.