Country Bans Actress From Making New Movies For Being Too Sexy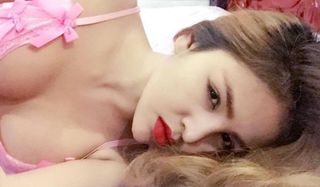 Who knew that being sexy was a punishable offense? That's exactly what has happened to Denny Kwan, a 24-year-old actress from Cambodia, who has been banned from any activities in the entertainment industry, which includes acting, karaoke and singing on television for an entire year because she is apparently just too sexy. The Cambodian authorities reached this decision late last week, as they insisted that Denny Kwan's revealing attire had violated an "ethics" code in the country. This then provoked them to hand out this rather bizarre punishment, which was immediately met with backlash from people around the world.
Chamroeun Vanntha, who is a director with the Culture And Fine Arts Ministry in Cambodia, looked to explain the country's decision to ban Denny Kwan in this manner to The Cambodia Daily. Chamroeun Vanntha remarked,
While Chamroeun Vanntha and the rest of the Culture And Fine Arts Ministry in Cambodia clearly aren't taken with Denny Kwan's sense of style, plenty of people on Facebook are. The actress, who has appeared in a variety of movies, has over 360,000 Facebook followers who flock to her page to see her daily posts, photos, and live-chats.
During her own interview with the Phnom Penh Post, Denny Kwan insisted that her provocative approach was nothing compared to the other "many sexy artists" from the country, who even shoot scenes "featuring kissing and being erotic." However, rather than making the situation any more contentious, Denny Kwan has accepted this punishment, and even insisted that she's going to try and change her ways. Denny Kwan explained,
But while Denny Kwan has declared that she's going to try and tone down her sexiness, a number of activists have shot to her defense, insisting that the budding actress hasn't done anything wrong, while also declaring that the actions of the Cambodian authorities are a form of gender discrimination. Rose Sopheap the executive director of Gender And Development Cambodia, a gender equality group in the country, remarked, "there is no policy or law to prohibit what people wear," and accused Cambodia of violating the UN's Convention on the Elimination of All Forms Of Discrimination Against Women.
Some Cambodian politicians have shot back after these accusations, insisting that they handled the situation in the correct manner, especially because Denny Kwan had previously not adhered to their warnings, while also noting that Denny Kwan needs to be more considerate about what she wears because of her role as a public figure in the country. Clearly this hot-button issue is far from over, though, especially since, as part of her punishment, Denny Kwan can't even pass her time in between jobs by performing karaoke. Which just seems unnecessarily cruel.