Why So Many Family-Friendly Movies Are Causing Problems For The Toy Industry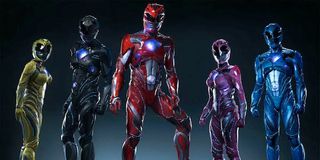 When it comes to family-friendly blockbusters, Mel Brooks' Yogurt in Spaceballs had the right idea on where the "real money" is made: merchandising! Oh sure, ticket sales are important, but selling toys and other products for both kids and older moviegoers are usually where these kinds of movies can truly make a profit for the studio. However, it doesn't look like 2017 will be the best year for these sales, as they're currently down due to market fatigue.
2017 is certainly not lacking in movies that could benefit from toy tie-ins, like Cars 3, Wonder Woman and Transformers: The Last Knight, to name a few. But it turns out that this wide selection from Hollywood may be the very reason why the toy industry might make as many big bucks this year, and there are already signs of early fatigue. For instance, both Power Rangers and Beauty and the Beast have posted disappointing toy sales, with the latter movie having to resort to put out "buy one, get one free" promotions. As for why 2017 may prove to be problematic, Gerrick Johnson, a toy analyst at BMO Capital Markets, explained to The NY Post that there's just too much for the kids and their parents to choose from. The way he sees it:
This is by no means a problem that's not just surfacing in 2017. While toy sales did rise 5% last year to $20.4 billion, the NPD Group predicted it would reach a 6.5% gain, thus underperforming. Even something like Star Wars isn't guaranteed to be a heavy hitter, because Toys 'R' Us reported that the chain sold $50 million less merchandise from a galaxy far, far away compared to 2015, and Gerrick Johnson attributed to decreased sales to "fatigue." So even though Star Wars: The Last Jedi arrives in December, a time when toy shopping is at an all-time high, that won't necessarily translate to maintained to boosted sales.
All this being said, we're not even at 2017's halfway point yet, and there are still chances for improvement when it comes to toy industry's movie tie-ins. Jim Silver, president of the toy review site TTPM, noted said that this will be an "unusually strong summer," while Toys 'R' Us Chief Executive Dave Brandon noted that there are 26 movie properties sprinkled throughout the year that will hopefully provide "opportunities." Overall, retailers are expected to collect around $5 billion in movie-related sales from eight cinematic offerings this summer, with Spider-Man: Homecoming and Cars 3 accounting for $1 billion each.
Whatever ends up happening, as you'll see when you check out our 2017 schedule, there's no shortage of movies on the way that will have plenty of toys and other products you can buy connected to their releases.
Connoisseur of Marvel, DC, Star Wars, John Wick, MonsterVerse and Doctor Who lore. He's aware he looks like Harry Potter and Clark Kent.
Your Daily Blend of Entertainment News
Thank you for signing up to CinemaBlend. You will receive a verification email shortly.
There was a problem. Please refresh the page and try again.