Watch Chadwick Boseman Train To Fight As Black Panther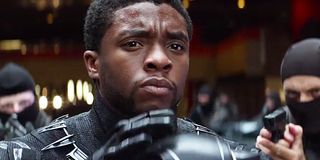 Becoming a Marvel superhero takes a lot of time, effort, and plenty of training. The training doesn't stop when production gets underway, though, because the actors have to keep themselves in prime condition while learning new moves that they will then incorporate into the film. Chadwick Boseman is currently going through such endeavors for Black Panther, and he's now given fans an intimate look at this process by uploading a video of him training to fight as the superhero.
Rather surprisingly, there's actually a poetic majesty to Chadwick Boseman's moves as Black Panther. It's safe to say that this will be replaced by an intensity and fury when the above sequence is shot and then edited together, because while it is undoubtedly pleasing on the eye, it's not really the sort of action sequence most fans watch superhero films for.
Chadwick Boseman has already been through the above rigmarole before, though. That's because Black Panther will mark his second outing as the beloved character, as he previously made his debut in the Marvel Cinematic Universe this time last year with Captain America: Civil War. Chadwick Boseman's training paid dividends, too, because he seamlessly integrated Black Panther into the MCU, as he went toe-to-toe against The Winter Soldier and Captain America's side in his dispute with Iron Man. You can check out Black Panther's moves in Captain America: Civil War below.
The big question now though is whether or not Chadwick Boseman and Black Panther can still flourish without the rest of the Marvel superheroes around. Or will he flounder? A quick look at the superb ensemble for Black Panther suggests that the film shouldn't have any problems whatsoever. That's because Creed's Ryan Coogler has been brought on-board to both co-write the script and direct, while the movie itself has one of the strongest casts of 2018. Not only is Chadwick Boseman reprising his titular role, but he will go up against Michael B. Jordan's villainous Erik Killmonger, which, we can all admit, is a superb name for a foe.
Black Panther's stellar acting line-up is rounded off by Lupita Nyong'o, Danai Gurira, Martin Freeman, Daniel Kaluuya, Angela Basset, Forest Whitaker, and then finally Andy Serkis. We'll get to see each of these actors strut their stuff when Black Panther is released on February 16, 2018, while those of you looking to check something out in your local cinema before then can take a glimpse at our full schedule for 2017 releases for some tips on what you should see.