Ryan Gosling's Freak Out In Blade Runner 2049 Is My New Favorite Internet Thing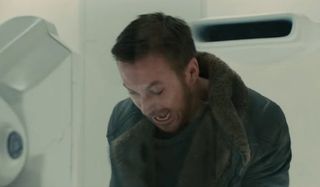 Stepping into Harrison Ford's shoes as the new head of the Blade Runner franchise was always going to come with a whole heap of pressure for Ryan Gosling. Thankfully, the actor was given the opportunity to relieve this stress during the production of the upcoming sci-fi sequel, because the latest clip for Blade Runner 2049 features a sequence with Ryan Gosling screaming and freaking out at full pelt. And even though it only lasts for just a couple of seconds, it has instantly become another jewel for the internet to fawn over. You can check out Ryan Gosling having a minor breakdown as part of Blade Runner 2049 in GIF form below.
Clearly, not all is right with Ryan Gosling's LAPD Officer K during this moment in Blade Runner 2049, and you can't help but immediately ponder what provokes such an outcry. From what we know about Blade Runner 2049, there's actually plenty that could have caused Gosling to freak out in such a fashion. That's because the film will see Gosling's new blade runner discovering a dark secret that ultimately might lead to the end of all humanity. This discovery ultimately leads Officer K to find Harrison Ford's Rick Deckard, who was the main character of the original Blade Runner, but has since been missing for thirty years.
The latest clip for Blade Runner 2049, which is actually a tease ahead of the release of its brand new trailer, once again gives us a look at Harrison Ford's return as Deckard, while it also shows us Robin Wright's mysterious authority figure, who declares over the top of the footage, "There is an order to things. That's what we do here. We keep order." Plus there are several other very, very cool images of Ryan Gosling, which suggest that Denis Villeneuve has got a pretty good handle on the film. You can take in the clip below.
While I've undoubtedly got a soft spot for the quick glimpse of Ryan Gosling going beserk, the shot of him bathed in blue neon and covered in his own blood comes a close second, as does the very last peak from the footage, which shows Gosling shooting one person and then smoothly turning around to do the same to another. It looks utterly pristine. We'll get to see even more from Blade Runner 2049 when its latest trailer finally premieres on Monday, while the film itself will be released on October 6.
Your Daily Blend of Entertainment News
Thank you for signing up to CinemaBlend. You will receive a verification email shortly.
There was a problem. Please refresh the page and try again.