James Gunn Surprised A Theater Filled With Guardians Of The Galaxy Fans And It Was Awesome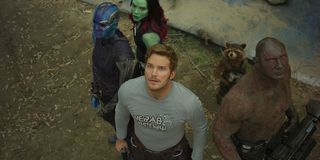 You may not like every movie you see, but often the act of going to see a movie in theaters makes for a fun time. But what's even better than going to a normal screening? Having someone connected to the movie unexpectedly show up there. Director James Gunn did just that last night when the El Capitan Theater in Los Angeles was showing both Guardians of the Galaxy movies, and he made sure the big moment was captured on video. Take a look!
Accompanied by Pom Klementieff and Stephen Blackehart, who play Mantis and Brahl (a member of the Ravagers), respectively, in Guardians of the Galaxy Vol. 2, James Gunn walked out on stage at this El Capitan screening in the interim between when Guardians of the Galaxy had concluded and the sequel was about to begin. As if that wasn't exciting enough for those in the crowd (and us watching on Facebook), Gunn also brought a pre-recorded message from Michael Rooker, a.k.a. Yondu. After that played, Gunn brought Klementieff out and complimented her on how perfectly she portrayed Mantis in the new Marvel movie. In the final minute of the video, Gunn had Blackehart come out to deliver one of his lines, and with the surprise appearance out of the way, Gunn left the fans to enjoy Guardians of the Galaxy Vol. 2.
This isn't the first time a bigwig from the Marvel Cinematic Universe has showed up to surprise fans at a screening. Last year, Chris Evans and Sebastian Stan teased on social media that they would show up at one of the early Captain America: Civil War screenings that were happening across the United States, and they ended popping in at one happening in Phoenix, Arizona. Gunn is by no means obligated to surprise fans like this considering all the time and energy he's already poured into working on and promoting Guardians of the Galaxy Vol. 2, but the fact that he did and brought two of the actors with him is incredibly wonderful.
After being open for more than a week internationally, Guardians of the Galaxy Vol. 2 finally opened domestically last night (thus kicking off the summer movie season) and collected $17 million from Thursday screenings. Looking to the future, most of the Guardians will return next year for Avengers: Infinity War, and James Gunn announced last month that he will write and direct Guardians of the Galaxy Vol. 3.
Guardians of the Galaxy Vol. 2 is now playing in theaters across the U.S., and don't forget to check out our review of the movie. The MCU will also continue later this year with Spider-Man: Homecoming on July 7 and Thor: Ragnarok on November 3.
Connoisseur of Marvel, DC, Star Wars, John Wick, MonsterVerse and Doctor Who lore. He's aware he looks like Harry Potter and Clark Kent.
Your Daily Blend of Entertainment News
Thank you for signing up to CinemaBlend. You will receive a verification email shortly.
There was a problem. Please refresh the page and try again.