Jerry Bruckheimer Defends Johnny Depp's Alleged Behavior On The Pirates 5 Set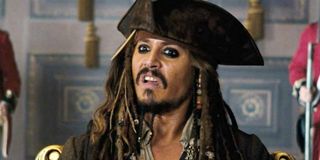 Pirates Of The Caribbean: Dead Men Tell No Tales' production was allegedly hampered by a number of incidents, most of which revolved around Johnny Depp. Insiders have alleged that the actor was guilty of drinking too much, getting into fights with Amber Heard, and constantly being late to the set during filming. Although none of these rumors sound particularly good, Johnny Depp has at least one person on his side, as producer Jerry Bruckheimer has defended Johnny Depp, insisting that the actor was under an immense amount of stress while shooting down under. Jerry Bruckheimer remarked,
Although Jerry Bruckheimer's response seems fairly understanding, he was brought into some of the allegations made about Johnny Depp's antics during filming on Pirates Of The Caribbean 5. Because Johnny Depp's reported tardiness and erratic behavior meant that hundreds of extras were left just idly waiting around for long parts of the day, the producer apparently used to get together with an assistant director, and several Disney executives, including president of production Sean Bailey, to discuss the best way to work around the actor.
According to The Hollywood Reporter, this allegedly included positioning a production assistant outside of Johnny Depp's home, who would then relay exactly when Depp was awake and moving around to directors Joachim Ronning and Espen Sandberg so they could get ready. When discussing Johnny Depp's behavior on Pirates Of The Caribbean: Dead Men Tell No Tales, one of the group that reportedly had to alter production on a daily basis simply described the actor as "not a morning person."
The early signs are that Johnny Depp's alleged issues during the shoot haven't made their way onto the big screen, though. That's because the first reactions following Pirates Of The Caribbean: Dead Men Tell No Tales's early screening at CinemaCon in March in Las Vegas were rather positive. You can check out the latest trailer for Dead Men Tell No Tales, and decide for yourself whether it will actually be a return to form.
We don't have long to wait until Pirates Of The Caribbean: Dead Men Tell No Tales is actually with us, as it will hit theaters on May 26 as part of this summer's lineup. It will be interesting to see if Johnny Depp's reported shenanigans and subsequent lawsuit sink its release, or if it will still sail swimmingly and exponentially add to the franchise's box office haul of $3.7 billion.
Your Daily Blend of Entertainment News