Rick And Morty's Alien Crossover Is Practically Perfect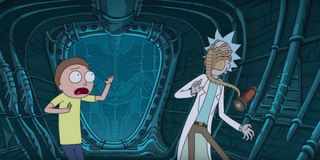 As far as movie monsters go, few can match the sheer horror induced by the Facehugger from the Alien franchise. From its terrifyingly unusual design to the violent way in which it impregnates its host, the spider-like creature has a phenomenal track record for racking up an onscreen body count. Of course, that was until the Facehugger went up against Rick Sanchez from Earth C-137. A new promotional video for Alien: Covenant featuring the titular heroes from Rick and Morty has debuted online, and it is a hilariously and most excellent tribute to Ridley Scott's sci-fi horror franchise. Check it out below to see for yourself.
Leave it to Morty to almost get Rick killed by a Facehugger, right? In less than a minute, that video captures the complete spirit of Rick and Morty, while also serving as a fantastic tie-in for the release of Alien: Covenant. The clip shows the titular duo exploring an Engineer ship -- only for a Facehugger to come out of nowhere and latch itself onto Rick's face. However, due to the sheer toxicity of the drugs and alcohol in Rick's system, the Facehugger quickly releases itself from his mouth and dies on the floor. It is not an overt endorsement of drugs and alcohol (although series co-creator Justin Roiland HAS recorded Rick's lines while plastered), but it makes a strong case that they can save your life when you find yourself in a space-based horror scenario.
It is somewhat surprising that it has taken Rick and Morty this long to get around to the Alien franchise. The Adult Swim series has consistently skewered science fiction and horror movies like The Purge, Inception, and even Jurassic Park since it first debuted back in 2013. Considering the sheer iconography of Ridley Scott's beloved horror franchise (as well as how neatly the Xenomorphs would fit into the world created by Rick and Morty), it seems like a match made in heaven.
Beyond that, Rick and Morty has become a wonderful source of sponsored content for a wide variety of brands in recent years. The wide appeal of the series blends perfectly with its sense of self-awareness, which allows Rick and/or Morty to advertise something while also making plain fun of it. This tactic has worked for movies like Alien: Covenant, as well as fast food brands like Carl's Jr., and there doesn't really seem to be an upper limit for the marketing strategy. Now if the folks behind Rick and Morty could just bring us Season 3 (we're still reeling from the April Fool's Day episode) we will be very happy.
No matter what, we have a feeling that the folks who encounter the Facehuggers in Alien: Covenant will not be nearly as lucky as Rick was on this adventure. Ridley Scott's latest Alien film will scare its way into theaters this weekend on May 19.
Originally from Connecticut, Conner grew up in San Diego and graduated from Chapman University in 2014. He now lives in Los Angeles working in and around the entertainment industry and can mostly be found binging horror movies and chugging coffee.
Your Daily Blend of Entertainment News
Thank you for signing up to CinemaBlend. You will receive a verification email shortly.
There was a problem. Please refresh the page and try again.