Watch Ben Affleck Do The Batman Voice For Kids On Red Nose Day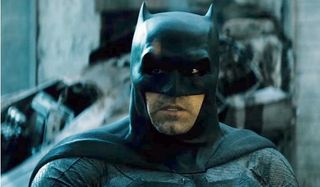 You probably remember that there was originally quite a bit of hubbub surrounding Ben Affleck's casting as Batman. Plenty of moviegoers didn't believe that Affleck would do the character justice, especially considering just how popular Christian Bale had been in the role in Christopher Nolan's Dark Knight saga. Ben Affleck's performance in Batman v Superman: Dawn Of Justice managed to quash those fears, but it appears as though there is still one naysayer out there. That's because, in celebration of Red Nose Day, a video of Ben Affleck being asked to do his Batman voice for a kid has emerged, but then the kid in question decides that he'd rather hear Christian Bale do it instead. You can watch the hilarious promo below.
Poor Ben Affleck. There's every chance that the anger in his voice right at the end of the video, when he declares that Christian Bale was unavailable, was a little bit genuine, too. It would be somewhat understandable, especially considering just how much abuse Ben Affleck received when he was originally cast in the film. Obviously the small child in the above clip wouldn't have deserved such shoddy treatment, though.
Ben Affleck took part in this promotional clip to bring further attention to Red Nose Day, which took place on American television last night (Thursday, May 25) on NBC. Originally launched in the United Kingdom back in 1988, the organization has raised over $1 billion in its attempt to end child poverty across the world.
Unfortunately for Ben Affleck, being compared to Christian Bale is just par for the course at this point. It's not just Christian Bale, though. Ben Affleck's performance as Batman is ranked against those of Adam West, Michael Keaton and Val Kilmer. But not George Clooney, because as we all know, it's widely agreed that his performance in Batman & Robin, and everything about that film, is just the worse.
While Batman v Superman: Dawn Of Justice itself wasn't well received, Ben Affleck's performance in the blockbuster was. This is hopefully just the beginning, too, as it has long been touted that Ben Affleck will follow up his role as Batman in Batman v Superman, his brief cameo in Suicide Squad and his impending work in Justice League with a solo outing. Of course, Ben Affleck was originally supposed to star, write and direct the film, but it was announced earlier this year that War For The Planet Of The Apes's Matt Reeves will now direct instead. Sadly, and frustratingly, we're still waiting for confirmation on when The Batman will actually be with us, though.
Your Daily Blend of Entertainment News