Three Big Villains Who Might Be Showing Up In The Batman Movie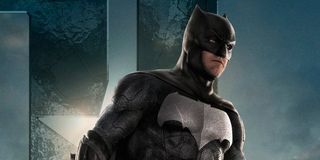 In the entire DCEU landscape, few movies have become more highly anticipated than the solo Batman movie. The hiring of Matt Reeves was an enormous stroke of good fortune for DC and WB, and the prospect of Ben Affleck finally taking center stage for his film has all of us excited. We still don't know much about the project, but new rumors have suggested that it's currently aiming for a 2019 release, with Deathstroke, Joker, and Scarecrow appearing as the movie's central antagonists. With that in mind, let's dive in and talk this out.
First and foremost we have the villain that most fans expect to see in this film. Joe Manganiello was announced as Slade Wilson at the end of last summer, and there have been several teases of the character's costume and motivations in the events of the solo Batman movie. Recent rumors had suggested that Deathstroke (and Manganiello by extension) may not factor into the plot of the film now that Matt Reeves is in charge, but it looks like we can still count on seeing this legendary mercenary face off against Batman.
Deathstroke is one of those villains who seems like a natural fit for live-action. An enhanced super soldier and brilliant strategic thinker, Slade Wilson is one of the Justice League's most formidable opponents and an easy match for The Caped Crusader in all forms of fiction. He will obviously make a significant physical and mental opponent, but the film will also reportedly feature an emotional threat in the form of the Clown Prince of Crime.
On that note, Jared Leto's Joker is another villain that most people expected to see pop up in the solo Batman movie. Love him or hate him, he's still Batman's arch nemesis and a key player in the greater DCEU landscape. Suicide Squad introduced him as a secondary player, but it's time for him to become a proper antagonist.
Unless something drastic changes within the next few years, this movie will be the first time that Ben Affleck's Batman and Jared Leto's Mr. J meet face to face. Given the mythology that has been established between them (dead Robin, anyone?), it stands to reason that Joker will be able to get under Batman's skin and take him off-guard in some major ways. He will have some competition in that regard, because the rumors also indicate that Scarecrow and his fear gas will enter the mix as well.
This is where things get even more interesting, because this is the first time we're learning of Scarecrow's possible presence in the movie. Jonathan Crane was already portrayed in The Dark Knight trilogy by Cillian Murphy (most notably in Batman Begins), but it sounds like Matt Reeves, and the folks behind the solo Batman movie have an entirely new design for the psychologically devastating character.
Scarecrow, as his name would suggest, is all about fear. He uses a powerful aerosol gas that induces panic attacks and causes its victims to imagine their deepest fears. This makes him a dark and twisted inversion of Batman's use of fear as a weapon, and will offer Matt Reeves a major opportunity to play with the film's visuals in bizarre ways.
Because Reddit is not always the most reliable source of leaks and rumors, it's worth taking this development with a grain of salt. That said, the odds of Joker and Deathstroke appearing in the solo Batman movie always seemed somewhat likely, and the prospect of a new Scarecrow certainly makes sense. With all of these characters together, the possibility of an adaptation of the Arkham Knight video game story (in which all three of them factor prominently) seems plausible at this stage. Then again, we will just have to wait and see.
Make sure to stay tuned for more updates related to the solo Batman movie. Ben Affleck's Caped Crusader will make his next foray into the DCEU when Justice League debuts in theaters on November 17, 2017.
Originally from Connecticut, Conner grew up in San Diego and graduated from Chapman University in 2014. He now lives in Los Angeles working in and around the entertainment industry and can mostly be found binging horror movies and chugging coffee.
Your Daily Blend of Entertainment News
Thank you for signing up to CinemaBlend. You will receive a verification email shortly.
There was a problem. Please refresh the page and try again.