Why One Country Is Attempting To Ban Wonder Woman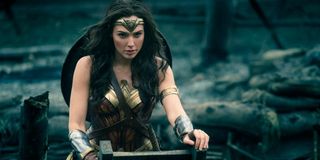 There's been plenty for the Wonder Woman team to celebrate over the last few weeks, as the film has been met with scintillating reviews and has even been labelled as the most anticipated of the summer, too. However, it hasn't all been plain sailing. Last week some fans took umbrage with the planned female-only screenings of the film, and it has now been revealed that officials from Lebanon want Wonder Woman to be banned in the country. Why? Because Wonder Woman herself is being played by Gal Gadot, who hails from Israel.
Lebanon is officially at war with the country of Israel, and they even have a law that bans any products from the country being sold on their soil. Lebanese citizens are also banned from having contact with people from Israel, and they're not allowed to travel to the country, too. Because of this boycott, and the fact that Gal Gadot was born and raised in Isreal, as well as served as an enlisted solider in the Israel Defense Forces as a combat trainer, Lebanon's ministry of economy believes that Wonder Woman shouldn't be released into their theaters. Protestors are furious because of Gal Gadot's military past, and the fact that she supported the Israeli military's offensive towards Gaza on Facebook back in July 2014.
This proposed ban would be quite a big step from the country of Lebanon, considering that they didn't ban any ofGal Gadot's previous films. This has included Fast & Furious, Fast Five, Fast & Furious 6 and Batman v Superman: Dawn Of Justice. However, there were some protests around the release of Batman v Superman: Dawn Of Justice, which suggested that vocal campaigners had a problem with Gal Gadot's involvement in the film.
At the moment, though, the ban is yet to be enforced. In fact, a premiere for Wonder Woman has even been planned, while it has also been reported that various bits of promotional material, including posters, have been spotted across Beirut, the capital of Lebanon. But the local Lebanese newspaper, The Daily Star (via Arab News) have now reported that the ministry of economy wants to "take the necessary measures" to stop the film from hitting its cinemas, which I imagine they will have to do rather promptly considering Wonder Woman is set to be rolled out across the world over the next few days. In order for that to actually happen, a six-ministry-member committee would need to recommend the ban.
In the meantime, Wonder Woman is all set to finally hit US theaters over the next few days. Quite a few people are rather excited to see it, too, as it was recently revealed that the film is the most anticipated release of the summer. You can take a gander at its trailer to see why. It has been projected that Wonder Woman could open to a haul of somewhere between $65 million and $105 million. We'll find out which end of the spectrum it lands on when Wonder Woman is released Friday, June 2.
Your Daily Blend of Entertainment News
Thank you for signing up to CinemaBlend. You will receive a verification email shortly.
There was a problem. Please refresh the page and try again.