How Chappie's Director Feels About The Movie Bombing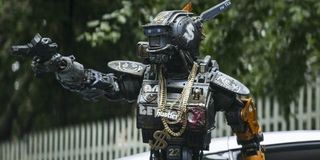 When Chappie was released back in 2015, the film failed to capture an audience in the way that its co-writer and director Neill Blomkamp intended. While its return of $102.1 million from a $49 million wasn't catastrophic, Chappie's score of just 31% on Rotten Tomatoes was devastating for the filmmaker, especially considering that Blomkamp's two previous films had been so popular critically. Neil Blomkamp has now opened up about how much toil he still feels over the response to Chappie, particularly as the South-African director was able to create something extremely close to his vision with the film. Neill Blomkamp recently revealed,
From the sound of Neill Blomkamp's comments to Den Of Geek, it is pretty clear that he's not yet over the brutal response to Chappie. But while Blomkamp insisted it was "unbelievably painful" to see Chappie dismissed by critics and audiences, he also confessed that this reaction gave him a new understanding and appreciation of why he actually makes films. Instead of living off the reactions of critics and viewers, Neill Blomkamp is now focused on only pleasing himself. However, he's well aware of just how risky a strategy this is, and he even suggested that it might lead to him struggling to get work. Blomkamp continued,
While it's hard to disagree with Neill Blomkamp's closing remarks, considering the critical response to the film, there are quite a few moviegoers out there that really loved Chappie. In fact, there's every chance that the film could find itself reappraised over the ensuing years, something that has happened to the likes of Blade Runner and The Thing in the past. Let's hope that's the case, because clearly Neill Blomkamp is still in quite some pain over Chappie's treatment.
Your Daily Blend of Entertainment News
Your Daily Blend of Entertainment News
Thank you for signing up to CinemaBlend. You will receive a verification email shortly.
There was a problem. Please refresh the page and try again.