How Andy Serkis' Ulysses Klaue Will Change For Black Panther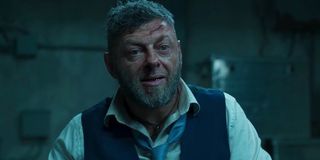 It has been over two full years since Andy Serkis' Ulysses Klaue made his debut in the Marvel Cinematic Universe during the events of Avengers: Age of Ultron. Not content to merely lick his wounds, the man has kept himself busy since the rogue AI forcefully removed his arm. The mysterious baddie is currently gearing up to face off against one of Marvel's newest heroes when Black Panther hits theaters next February, and he's certainly not letting his newfound status as an amputee get the best of him. In fact, new details about his high-tech prosthesis have just come forward, and it sounds like "Klaw" is about to become far more dangerous (and faithful to the comics) than he ever was in Age of Ultron.
When the trailer for Black Panther debuted last Friday, the Internet did its thing and dissected every last frame of the badass preview. However, a few new details have come forward that weren't immediately apparent when the trailer dropped. Specifically, a new report from EW confirms that Ulysses Klaue will use a piece of Wakandan mining technology as an advanced arm cannon during the events of the upcoming film. Because the character primarily appears in captivity with Martin Freeman's Everett Ross during the preview, we never get a clear shot of the weapon. That said, these new details still promise a significant physical threat from this already menacing baddie.
This not-so-subtle upgrade sounds insanely cool, and it very much lines up with what fans of Marvel Comics have come to expect from the character. Specifically, Klaw is known for his use of a high powered "sonic emitter," which makes him a deadly opponent in combat. His amputation at the hands of Ultron in 2015 looked excruciatingly painful, but we now know that it was the first step towards turning him into the iconic bad guy that Black Panther fans know and love.
Even without his new piece of tech strapped to his stump, it sounds like Ulysses Klaue will be a formidable opponent for anyone daring enough to face him. The events of Age of Ultron established him as a man of means and showed him to be incredibly capable of intimidating his enemies. The fact that he's one of the only outsiders to learn the truth about Wakanda and its high-tech culture should go a long way towards proving that he's not a man to be trifled with. After all, Steve Rogers (Chris Evans) took it easy on T'Challa (Chadwick Boseman) in Civil War; Klaw won't be so nice.
Check out the first official trailer for Black Panther below for an even closer look at Ryan Coogler's upcoming solo movie.
Ulysses Klaue will make his grand return to the Marvel Cinematic Universe when Black Panther hits theaters on February 16, 2018.
Your Daily Blend of Entertainment News
Originally from Connecticut, Conner grew up in San Diego and graduated from Chapman University in 2014. He now lives in Los Angeles working in and around the entertainment industry and can mostly be found binging horror movies and chugging coffee.