How Ryan Coogler Feels About Tackling Black Panther For Marvel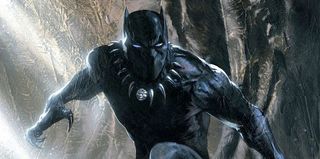 It was a move that had been rumored for quite some time, but just the other day Marvel made it official that Ryan Coogler will direct Black Panther. The choice seems like a great fit for the up and coming young filmmaker, and is marks a big step up in scope and scale, but he for his part, Coogler is pretty damn stoked.
At just 29-years-old, Ryan Coogler only has two features under his belt, the indie drama Fruitvale Station and the recent addition to the Rocky franchise, Creed, both of which star Michael B. Jordan. Hey U Guys recently sat down with the director and asked how he feels about his new gig, and he said:
Ryan Coogler was one of many people who were very vocal about the idea that Black Panther, which will be the first comic book movie fronted by a black superhero, needs to be made by a black director, and now he has his wish. The character represents a new wealth of storylines and a different perspective for the Marvel Cinematic Universe, and we're excited to see what Coogler will be able to do.
Black Panther, also known as T'Challa, the king of the fictional, technologically advanced African nation of Wakanda—the source of most of the world's vibranium, the stuff Captain America's shield is made out of—will make his big screen debut later this year in Captain America: Civil War, played by Chadwick Boseman. In fact, the most recent trailer gave us our first quick look at him in action. From there he'll likely start to figure into the larger tapestry of the MCU, and in 2018 we'll get his Ryan Coogler-helmed solo movie.
This marks another big step up for Ryan Coogler. He went from the indie Fruitvale Station, which has a reported budget of around $900,000, to Creed, a moderately budgeted studio picture that cost somewhere in the neighborhood of $35 million. When he takes the reins on Black Panther, we're likely going to see a budget in the hundreds of millions of dollars, as well as action on a scale that he's never worked on before. Despite a lack of experience in that arena, Coogler has show visual flair behind the camera, including an epic single-take shot in Creed that plays out uninterrupted over multiple rounds of a boxing match.
Coogler had a very personal reason for diving into the Rocky universe, one that ties back to his father, and it sounds like he's going to try to bring a similar level of emotional investment to Black Panther. Though we'll meet him later this year, the King of Wakanda's first solo outing doesn't hit theaters until February 16, 2018.
Your Daily Blend of Entertainment News