Why Colin Trevorrow Took A Big Risk On The Book Of Henry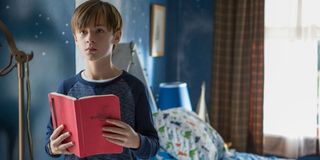 While The Book Of Henry is only Colin Trevorrow's third feature film as a director, it finds him at something of a junction. While his debut effort, 2012's Safety Not Guaranteed, was a critically acclaimed sleeper hit indie, his follow-up Jurassic World grossed $1.672 billion and is currently the fourth highest grossing film of all time. He'll follow up The Book Of Henry in 2019 with the second sequel to the third highest grossing film of all time, too, in the shape of Star Wars 9. But with four years between the releases of the mega blockbusters Jurassic World and Star Wars 9, Colin Trevorrow wanted to turn his hand to something a little more character driven and personal with The Book Of Henry. Especially because it gave him the opportunity to better define himself as a filmmaker. To do this, Trevorrow embraced the inherent risks of The Book Of Henry. He recently told us:
Colin Trevorrow made this admission to me earlier this month, when I sat down with The Book Of Henry director in New York City to discuss the film. While he made it clear that he feels like he has left his biggest cinematic imprint on The Book Of Henry, an opportunity he was always likely to get after the monstrous success of Jurassic World, he did insist that he has taken risks with all of his previous films. But he only did so if it helped to "serve the story." Colin Trevorrow continued,
You can check out the trailer for The Book Of Henry, and decide whether or not you actually want to see its risks unfold, by watching it below.
The Book Of Henry will be in cinemas on June 16.
Your Daily Blend of Entertainment News
Your Daily Blend of Entertainment News
Thank you for signing up to CinemaBlend. You will receive a verification email shortly.
There was a problem. Please refresh the page and try again.