What Josh Duhamel Really Missed About Working On The Transformers Movies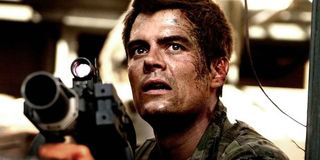 The decision for Age Of Extinction to be a mini-reboot of the Transformers franchise seemed vindicated when it became the highest grossing film of 2014. Because of this success, it was assumed that we would never see the cast of the original trilogy alongside Optimus Prime and pals ever again. However when it was decided that a military presence was needed in The Last Knight, the team behind the franchise quickly looked to bring Josh Duhamel back into the fold as William Lennox. And it turns out that the actor was more than willing to do just that because he had really missed working on such a huge blockbuster. Josh Duhamel recently made this admission, remarking:
Josh Duhamel made the above comments to me when I sat down with the actor in London last weekend to discuss his return as William Lennox in Transformers: The Last Knight. And clearly he was rather happy to be back as the character, too, as he explained that that he held no grudges about being left out of the Age Of Extinction, and reasoned that he was only omitted because of a lack of a military presence in the film.
In between 2011's Transformers: The Dark Of The Moon and The Last Knight Josh Duhamel didn't come close to dabbling in a cinematic playground akin to those that Michael Bay creates. Instead, he appeared in the likes of New Year's Eve, You're Not You, Lost In The Sun, Bravetown and Spaceman, each of which had much smaller budgets and were more character driven. So it's rather obvious why Josh Duhamel reveled in sharing the screen once more with Optimus Prime and Bumblebee, as well doing battle with the Decepticons again in The Last Knight. You can check out a snippet of Josh Duhamel discussing his return in Transformers: The Last Knight with me, below.
You can watch Josh Duhamel's return to the Transformers universe in The Last Knight for yourself right now, as the blockbuster has just been released into theaters. You can also take a peek at our review for the film, too. If you're looking for something else to devour on the big-screen, though, please take a gander at CinemaBlend's full 2017 schedule.
Your Daily Blend of Entertainment News
Thank you for signing up to CinemaBlend. You will receive a verification email shortly.
There was a problem. Please refresh the page and try again.