How Much Transformers: The Last Knight Made On Opening Night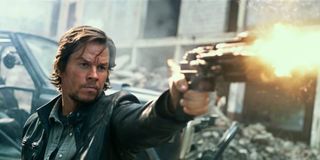 The Transformers tend to be box office powerhouses regardless of what critics think. The newest entry in the franchise Transformers: The Last Knight is here, how did its early screenings stack up? The new film opens today rather than Friday, meaning that early screenings were last night, and in total the new Transformers film brought in $5.5 million in ticket sales. While that's certainly a solid number, it's down significantly from the Thursday screening total for Transformers: Age of Extinction, which brought in $8.8 million.
In comparison, Variety reports that $5.5 million is about the same preview total that Pirates of the Caribbean: Dead Men Tell No Tales brought in last month. That film went on to gross $62 million in its opening weekend. Transformers: The Last Knight is looking to gross about $70 million from now through the weekend. This is also down significantly as the last film grossed $100 million in its opening weekend.
While this might appear to be bad news for a franchise that is currently planning several future movies and an extended universe, it's a bit early to write off Transformers. Transformers: Age of Extinction may have grossed a lot more in its previews than The Last Knight, but Extinction itself was down significantly as compared to the rest of the franchise. However, that's only when you look at the film's domestic box office. Globally, Extinction is the second highest grossing film in the franchise. Even if The Last Knight continues the downward trend domestically, that doesn't mean the movie is going to do anything close to bombing. The last two films in the franchise broke $1 billion around the world, there's no reason to believe this one won't as well.
Part of the reason for the decline may simply be the fact that it was a Tuesday and not a Thursday. People are used to films opening on Fridays and if people weren't paying close attention, it's possible they didn't realize the movie was opening today. Regardless, while the extra couple days will certainly help, the movie won't make a great deal of money until we get to the weekend. Nothing else is opening this weekend so there's no major competition either. If you've seen everything else in the multiplex and need to escape the summer heat, your options are limited.
On Monday, after Transformers: The Last Knight has been open for a full weekend, as well as opening in major international markets like China, we'll be able to take a real look at the franchise and see what kind of shape it's actually in. Critics haven't been kind to the new movie, but that will have little to do with its box office success.
CinemaBlend's resident theme park junkie and amateur Disney historian. Armchair Imagineer. Epcot Stan. Future Club 33 Member.
Your Daily Blend of Entertainment News
Thank you for signing up to CinemaBlend. You will receive a verification email shortly.
There was a problem. Please refresh the page and try again.