Baby Driver Ending: What The Stars Think Really Happened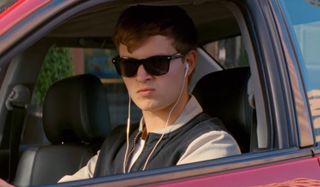 SPOILER WARNING: The following article contains absolutely massive spoilers for the end of Edgar Wright's Baby Driver. If you have not yet seen the film, and don't wish to know any details about the movie, please bookmark this link and return to this feature after your screening!
It's been a nice long four year wait, but finally writer/director Edgar Wright has a new film in theaters -- and it's a stunner. Baby Driver is an incredible piece of daring and mind-blowing art that uses music unlike anything you've seen before -- and it's without question one of the best movies of 2017. As such, it offers up plenty of different discussions topic, regarding its bombastic action sequences and groovy soundtrack, but the most obvious subject to investigate is its mysterious ending.
In this feature, we'll not only analyze what goes down at the end of Baby Driver, but also dive into the perspectives of stars Ansel Elgort and Lily James, as well as writer/director Edgar Wright. So what is it that's going on in the last scene of the phenomenal crime thriller? Let's dig in!
What Happens At The End Of The Film
Baby Driver steers into its final turn shortly after the final showdown with Buddy (Jon Hamm), as Baby (Ansel Elgort) and Debora (Lily James) drive towards what they hope is finally a road to freedom. Baby, in the passenger seat, is dazed and still slowly adjusting to the fact that he is now mostly deaf thanks to Buddy's gun. Over the stereo we hear the sound of Sky Ferreira's cover of The Commodores' "Easy," and Debora asks if it's really Baby's mom who is singing -- revealing that she has put his cassette in the tape deck. "She has a beautiful voice," Debora says, and Baby replies, "I know," absorbing the sound by putting his hand on the door speaker.
Sadly, the dream of driving off into the sunset is short-lived, as while crossing a bridge they run into a cadre of police cars and officers who have been waiting for their arrival. Debora's instinct kicks in to throw the car into reverse, but Baby hits the brakes and pulls the key from the ignition. He recognizes that he can't pull her into his world by making her his accomplice, kisses her, and exits the car to give himself up.
A montage then follows Baby as he makes his way through the judicial system -- as we not only see him get his mugshot taken and be processed, but also hear the testimony of key witnesses -- including the woman whose car he stole, the post office clerk, and his foster father, Joe (with the sign language translator voiced by legendary director Walter Hill). A judge sentences Baby to 25 years of incarceration, with the possibility of parole in five. He spends his time in prison mopping floors, watching TV, and reading a postcard from Debora telling him that she can't wait until they reunite.
As we saw earlier in the movie, there is then what appears to be a black and white fantasy sequence as Baby is exiting the prison, but the scene fades to color as Baby and Debora are reunited in a red and white convertible -- and after the revelation of Baby's real name (Miles) and a drive off toward the horizon with a rainbow in the sky, you're left to wonder if what you're seeing is actual reality. To help clear things up, we asked Ansel Elgort, Lily James, and Edgar Wright all individually about the finale... and they all surprisingly had very different things to say about Baby Driver's ending.
What Ansel Elgort Thinks Happens
If you're thinking that the end of Baby Driver showcases the ultimate fate of Baby and Debora, then you're thoughts go strictly against those of Ansel Elgort. It turns out that he is firmly in the "it's not actually real" camp. At the Los Angeles press day for the film in mid-June, I asked the actor about the ending during a one-on-one interview, and he left no ambiguity regarding his thoughts on the way the movie finishes. Said Elgort,
Essentially, Ansel Elgort thinks that there is a future for Baby and Debora, but that it's not really what we see play out in the final scenes. Instead, it's a fantastical vision of what that eventual reunion may be -- hence the use of the black and white.
For the actor, the key element in all of it is the idea of Debora potentially waiting a full two and a half decades for Baby to be given his freedom. Ansel Elgort was not stifled in his thoughts on the matter, and explained during our interview why the postcard is really the key element in the ending:
On a more macro level, Ansel Elgort also told me that he had a heavy appreciation for the end of Baby Driver just in that it's a film that features legitimate consequences for its criminal hero's action. He told me that he sees something inherently phony about movie criminals getting away with the job and living happily ever after, and loved that Edgar Wright's film was willing to have his character turn himself in. He explained,
So that's one vote for "It's all a fantasy." But what are Lily James' feelings on the conclusion? Read on to find out!
What Lily James Likes About The Ending
Ansel Elgort may think that the end of Baby Driver is just fantasy and that the idea of the getaway isn't realistic, but Lily James actually expressed different sentiments when I sat down with her for an interview. In addition to recognizing the particular ambiguity about the reality of the movie's ending, she also expressed that a part of her wishes that they could have avoided the whole prison thing and gone through with their original plans while being on the run. Said James,
At the end of Baby Driver, what you ultimately want for the lead characters is a happy ending, and whether it's real or fantasy, that is ultimately what the movie delivers (you have to also remember that this is a fictional story about fictional people). As Lily James notes, it's really left up to the audience to decide whether or not Baby and Debora will reunite after he gets out of prison - but regardless of that, the film is still able to play out the "romantic ending to a gangster story."
So now you've heard what the stars of Baby Driver had to say about it, but what about the man whose mind is responsible for the entire world in which the movie exists? Continue to the next page for Edgar Wright's thoughts on the matter!
What Edgar Wright Is Actually Doing With Baby Driver's Ending
In the making of a movie, the director is king, and the general idea is that what audiences see on the big screen is the complete vision of the filmmaker. Because of this, when a narrative ends with ambiguity, it is generally the director's opinion that is held in highest esteem. So how does Edgar Wright feel that audiences should be interpreting the reality or fantasy of the ending? The answer is that it doesn't really matter, and all that's important is that there are no right or wrong interpretations, and that there is a conversation going on. Wright told me,
So whether you think the Baby Driver ending is reality or make believe, what's really ultimately the most important thing is that you're thinking about it and engaging with the material (on that note, thanks for reading this feature!)
During the interview, Edgar Wright also detailed why he made the decision that he did to have Baby turn himself in -- rather than either get killed Bonnie and Clyde-style or live on a la True Romance. Evidently a prison sentence was always waiting for the titular hero at the end of the story essentially because it was the required ending for everything that had been set up earlier in the movie. The writer/director explained,
Perhaps my favorite part of the interview, however, was the little heads up that Edgar Wright gave me about the particular meteorological phenomenon that we see in the final scene. Because every detail matters in Wright's movies, there actually is a very specific reason why we see the rainbow, and it's because of the Dolly Parton song that the post office worker tells Baby about:
How did you interpret the end of Baby Driver? Do you think that we're seeing Baby actually get released from prison to be with Debora, or do you think it's just a vision that exists in Baby's mind? Did you get the little rainbow Easter egg that Edgar Wright left? Hit the comments section below with your thoughts!
Your Daily Blend of Entertainment News
Assistant Managing Editor
NJ native who calls LA home and lives in a Dreamatorium. A decade-plus CinemaBlend veteran who is endlessly enthusiastic about the career he's dreamt of since seventh grade.
Your Daily Blend of Entertainment News
Thank you for signing up to CinemaBlend. You will receive a verification email shortly.
There was a problem. Please refresh the page and try again.