The 5 Key Films That Inspired Baby Driver, According To Edgar Wright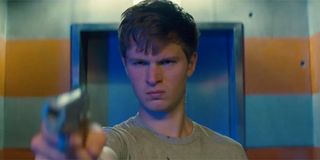 Edgar Wright is not just a great filmmaker, but clearly wears his love of movies on his sleeve. While each of his projects are unique, they are also crafted speaking a specific cinematic language designed by decades of legendary directors. His latest, Baby Driver, is most definitely no exception, and the man himself recently identified to me the five key titles that inspired his work. Check it out!
The concept behind Baby Driver first came to Edgar Wright 20 years ago - imagining a heist entirely synchronized to music -- and through its development the project found particular influences from some brilliant movies released in the latter half of the 20th century. I asked Wright about the titles when I got to sit down with him during the Los Angeles press day for Baby Driver earlier this month, and he provided an excellent breakdown.
Edgar Wright led off by highlighting Walter Hill's brilliant 1978 thriller The Driver, because it truly is the king of all getaway driver movies. In the tightly-woven narrative, Ryan O'Neal plays a genius behind the wheel who finds his heels being nipped at by a dogged detective (Bruce Dern), who is willing to sacrifice everything in his life to put the protagonist behind bars. Like The Driver, Baby Driver also keeps names to a real minimum, but it's also key to note that both films have the stylish capacity to raise your heartbeat to dangerous levels and make you feel like you've been strapped to the grill of a speeding car.
Quentin Tarantino is another filmmaker who speaks that specialized cinema language and infuses it into all of his movies, which makes it somewhat meta that Edgar Wright found influence in Tarantino's 1992 debut for Baby Driver. Like some of the other titles on this list, Reservoir Dogs is a modern heist classic, and there were key elements that Wright found particularly inspiration. The approach of treating the criminal enterprise like a business was one that the director latched on to (he likens Ansel Elgort's Baby in Baby Driver to an intern in that metaphor), but also implemented the idea of assembling different teams to take care of different jobs.
Discussing Katheryn Bigelow's Point Break, Edgar Wright acknowledged that there isn't much of a comparison story-wise to Baby Driver, but definitely wasn't shy about his appreciation for the film's brilliant action sequences. As featured in our video in side-by-side mode, chases both behind the wheel and on foot are photographed in similar dynamic fashions - plus it's hard to ignore the association of rubber Halloween masks. Another way that Baby Driver is similar is also that it has an equally and incredibly talented supporting cast, including Kevin Spacey, Jamie Foxx, Lily James, and Jon Hamm.
Wrapping up what Edgar Wright refers to as the "Trinity of 90s Heist Movies," is Michael Mann's Heat - which arrived later than Reservoir Dogs and Point Break but effectively changed everything that audiences expect out of robbery sequences. Wright also expressed how impressed he is by the scope of the 1995 hit, which was essentially a remake of a TV movie Mann had developed six years earlier. It's a film that the Baby Driver director clearly holds in very high esteem, referring to it as the grandaddy of heist movies.
Jon Landis' The Blues Brothers is another prime example of a film featuring a number of incredibly ballsy action sequences, but it also has two other key elements that wound up being smart inspiration for Edgar Wright's Baby Driver: the comedy and the music. As serious as things get, Wright's new movie is often laugh-out-loud funny, and thanks to its protagonist's excentricities it's always bouncing to a different beat. Or as Wright puts it, it's all about "big tunes and massive car chases."
What you get when you mash up The Driver, Reservoir Dogs, Point Break, Heat and The Blues Brothers is legitimately one of the best films of the year so far, and it will be heading your way incredibly soon. Baby Driver arrives in theaters this Wednesday, June 28th, and be sure to stay tuned here on CinemaBlend for a lot more from my interviews with the writer/director and the cast!
Your Daily Blend of Entertainment News
Assistant Managing Editor
NJ native who calls LA home and lives in a Dreamatorium. A decade-plus CinemaBlend veteran who is endlessly enthusiastic about the career he's dreamt of since seventh grade.
Your Daily Blend of Entertainment News
Thank you for signing up to CinemaBlend. You will receive a verification email shortly.
There was a problem. Please refresh the page and try again.