One Movie Will Ferrell Would Consider Doing A Sequel To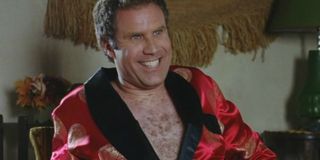 Will Ferrell clearly isn't against doing sequels to his films. Not only has he previously co-written and starred in Anchorman 2: The Legend Continues, but later this year, he will also star in Daddy's Home 2. But while Will Ferrell is still intent on starring in more original films, there is one movie of his that he'd consider making a sequel for: Step Brothers. Will Ferrell recently made this admission while out promoting his latest comedy, The House. After being asked about a sequel that he'd love to see, Will Ferrell couldn't help but first respond with a quip, before then giving a somewhat more serious answer. Will Ferrell remarked:
While Will Ferrell used his interview on Watch What Happens Live With Andy Cohen to tease a possible Step Brothers reunion between himself and John C. Reilly, he also used the opportunity to quash rumors regarding a number of other potential sequels he's been linked with. That's because earlier in the question and answer session, Will Ferrell was quizzed about the likelihood of Elf, Old School and Night At The Roxbury sequels, and he immediately insisted that none of them would happen.
It's understandable that Will Ferrell isn't looking to reprise his roles from the above trio of films anytime soon. The potential sequels to Step Brothers and Anchorman, and the confirmed Daddy's Home follow-up will do. While Daddy's Home doesn't have the same reputation as Step Brothers or Anchorman, it is actually the most successful financially. That's because Daddy's Home grossed $242.8 million at the box office back in 2015, while the first Anchorman only managed $90.6 million, Step Brothers made $128.1 million and Anchorman 2: The Legend Continues grossed $173.6 million. Daddy's Home 2 will look to spice things up and grow its audience with the addition of Mel Gibson and John Lithgow, and its first trailer actually possesses a solid amount of laughs.
But what's the latest with Step Brothers 2? Well, it's not good. Because while writer and director Adam McKay previously admitted that John C. Reilly had come up with an idea for a sequel, which McKay, Reilly and Ferrell then kicked around for a period, in the last few years both McKay and Ferrell have insisted that it is in no way a priority and that there are currently no plans for it to go into production. That doesn't mean it won't ever happen, just that it might be several more years before it does. It's the same situation for Anchorman 3, too.
However, considering that Will Ferrell's latest comedy, The House, had a terrible start to its box office tenure last weekend, studios might now only actually be interested in having the comedian lead a mainstream outing again if it is a sequel to one of his beloved efforts. So his priorities might quickly change.
Your Daily Blend of Entertainment News