The Reason Why Step Brothers 2 Will Almost Certainly Happen At Some Point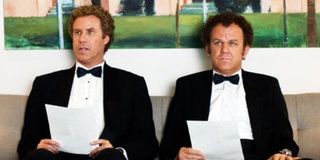 Adam McKay has confirmed that plans are still afoot for Step Brothers 2 - but he has warned that it might take some time for it to actually materialize.
Working with the original film's stars, Will Ferrell and John C Reilly, McKay had originally intended for the comedy sequel to be released before Anchorman 2. But Paramount then warmed to the idea of the Channel 4 news team's reunion, and Step Brothers 2 was put on the back burner as a result. But while the project has been long delayed, McKay hasn't forgotten about it, and he has now told Collider that the trio has an entire outline already penned and ready. Said the director,
Despite obviously being happy with where they are currently at with Step Brothers 2, however, McKay insisted that the sequel won't happen for a while still. The reason for this is the same reason why Step Brothers 2 didn't happen in the first place: Anchorman 2. Having already dabbled in the "sequel business" recently, McKay doesn't want to become known as a filmmaker who has run out of original ideas and becomes stuck returning to their old work. That's why he's wisely decided to focus on original cinematic material for the time being. "I want to go make some original movies," he said. "Or you know, The Big Short is an adaptation, but do some different stuff."
Despite this delay, McKay feels that there is still plenty of room to explore with the characters. John C Reilly and Will Ferrell's chemistry is so rich and timeless, meaning that they could wait for decades and the film would still end up being amusing. In fact it would actually probably make the film even funnier seeing the duo preposterously old and still mithering their parents. Said McKay,
You can't argue with McKay's logic. If he was to oversee another sequel just a few years after Anchorman 2's release then it wouldn't really sit well. It's just good to hear that Adam McKay, Will Ferrell and John C. Reilly are still out their flying the flag for Step Brothers 2, and that they have somewhat formed a plan for their future cinematic slate. Plus, even though I have complete faith that Step Brothers 2 will be worthwhile, McKay currently has plenty of other projects on his plate to contend with before he focuses on another Brennan Huff and Dale Doback adventure.
Your Daily Blend of Entertainment News
Thank you for signing up to CinemaBlend. You will receive a verification email shortly.
There was a problem. Please refresh the page and try again.