The Fate Of The Furious Director Addressed The Justice For Han Controversy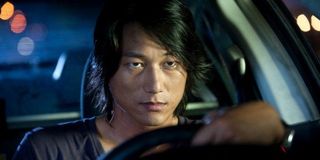 By the end of The Fate Of The Furious, fans of the franchise found themselves torn. While Jason Statham's Deckard Shaw had wowed viewers with his antics, helping to thwart Cipher (Charlize Theron) and saving Vin Diesel's child from her grasp, he was still the man that murdered Han Lue (Sung Kang) and fought valiantly against the Toretto crew in Furious 7. Because of his past antics, some Fast And Furious die-hards soon began a Justice For Han campaign, which protested the rise of Deckard Shaw. Director F. Gary Gray has now addressed this controversy, admitting that The Fate Of The Furious could have done more to address his past. F. Gary Gray admitted:
Clearly those involved in The Fate Of The Furious have taken notice of the uproar created by Deckard becoming cozy with the rest of the gang. But while F. Gary Gray refused to admit to Screen Rant that the film made a catastrophic mistake by not addressing it, he at least suggests that they will do just that in the ninth and tenth installments to the franchise.
But what could The Fate Of The Furious actually have done to address the elephant in the room that was that Deckard killed Han? Well, the likes of Roman (Tyrese Gibson), Tej (Ludacris), Letty (Michelle Rodriguez) and Hobbs (Dwayne Johnson) could have had a bigger problem with Deckard when he was brought onto the gang. By the end of The Fate Of The Furious, the latter's bromance with him was so rife that you thought it actually might end in a smooch. Then to top it all off, they all gather together for a beer, and no one even bothers to mention the fact that Deckard Shaw had killed their close friend just a couple of years earlier.
There have already been suggestions that Fast And Furious 9 and 10 will tackle this rather sensitive subject. That's because it has already been confirmed that Han Lue will somehow be bringing Han back. We're still not exactly sure if this will entail seeing him in person (like through a flashback or as a ghost) or if he'll merely be readdressed, but this will undoubtedly see Deckard Shaw confronted with his actions. We'll find out what goes down when Fast And The Furious 9 is released on April 19, 2019, while the tenth installment will follow on April 2, 2021.
Your Daily Blend of Entertainment News