Why The Rock And Jason Statham Need To Have Their Own Fast & Furious Spinoff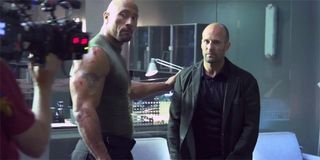 SPOILER WARNING: The following article contains spoilers The Fate of the Furious. If you have not yet had the chance to see the film, and don't wish for any details to be revealed beforehand, please bookmark this page and return after your screening!
After this weekend's The Fate of the Furious exploded, raced, and familia'd all over our screens, some thoughts have come to us after the dust has settled. The one looming largest in our minds is that of the direction the series will take going forward, now that Dom and Letty are parents and Hobbs has supposedly given up the life of a DSS agent to take care of his daughter. After all, it's pretty much a given that once a family enters the picture, you're pretty much marked for retirement. And yet there's one direction that the series could logically take that would be both very different and very entertaining. It's time to put Dwayne Johnson and Jason Statham, a.k.a. Luke Hobbs and Deckard Shaw, in the driver's seat of their own spin-off series.
The why behind this new project is simple: the Fast & Furious series can't hold the power of three beefcake leads. And if they aren't going to get rid of Dom, despite conventional wisdom suggesting it's his time for him to go, then Hobbs and Shaw need to hit the road on their own path of saving the world from the bad guys of underground crime. Now, of course, the initial advantage to this strategy is it allows the Fast & Furious franchise to revert back to its drag racing roots for their final two installments - given that Hobbes and Shaw both represent parts of the series' massive gear shifts in recent years. But besides putting Dominic Toretto and his family back on the path to car crazy glory, it solves a couple of problems that The Fate of the Furious has created within the series.
Fans will not soon forget the fact that Deckard Shaw killed beloved family member Han in The Fast and The Furious: Tokyo Drift/Fast & Furious 6. But while folks aren't comfortable with Deckard being part of the family, it wouldn't be a problem to let him become a DSS agent. It takes Deckard out of the racing Toretto family, and it also uses his contacts as a plus (plenty of opportunity for Kurt Russell's Mr. Nobody to return). Deckard wasn't really much of a racer, he was more of a one man army of kicking ass. Like the best Jason Statham heroes, he needs to be on the ground kicking ass with fists, feet, and any object he can grab - and Dwayne Johnson is the partner he needs.
There is one problem with this idea, and it may have already occurred to you: at the end of The Fate of the Furious, Hobbs has apparently left the DSS to become a family man. He's going back to being a full-time dad that coaches soccer games and packs the stands with lusty moms. However, given that it'll probably take a couple of years for this new Fast & Furious spin-off to get off the ground, this gives Hobbs' daughter enough time to grow up and fight her own battles. By that time, Shaw can get himself into enough of a jam that he'll need an expert to help him out of it. And what makes this all even better is that when Hobbs comes back to the fight perhaps his daughter will want to follow in the footsteps of her dear old dad.
There's obviously a lot of possibilities for a Hobbs and Shaw spin-off to The Fast and The Furious series, and it's made particularly clear in the fantastic antagonistic/begrudging chemistry between the two characters in The Fate of the Furious. If the rumors are true, it's honestly a really terrible thing that Vin Diesel is depriving fans of the end tag that would have seen Dwayne Johnson and Jason Statham together in a mysterious sequence. Universal is now sitting on a potential goldmine with the spin-off they've always wanted to get off the ground. It's a natural next step for the franchise, and one we definitely want to see.
CinemaBlend's James Bond (expert). Also versed in Large Scale Aggressors, time travel, and Guillermo del Toro. He fights for The User.
Your Daily Blend of Entertainment News
Thank you for signing up to CinemaBlend. You will receive a verification email shortly.
There was a problem. Please refresh the page and try again.