How Okja Almost Ended, According To The Director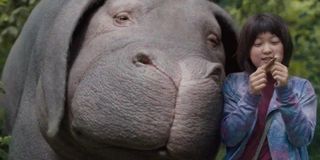 Even before its recent Netflix release, Bong Joon-ho's Okja proved to be highly controversial. A landmark collaboration between South Korea and the United States, the film made waves with its unorthodox release schedule -- which saw it debut in theaters and on Netflix simultaneously. That controversy spilled into the movie's release, as Okja's finale proved to be a downer for many members of the audience. However, that was not always the case, as the original first draft for the film's finale apparently toyed with the possibility of a much more upbeat ending.
A new report from HuffPost indicates that far more super pigs were initially going to survive the events of Okja. In the final version of the film, Mija manages to save the titular beast from the Mirando Corporation, but the rest of the animals ultimately find themselves led to a mass slaughter. By contrast, an earlier draft of the story involved the Animal Liberation Front successfully infiltrating the Mirando Corporation and taking the company down from the inside -- thus putting an end to the slaughter of the pigs. In the end, there were two main reasons why Bong Joon-ho opted out of this ending. First, he wanted to keep the focus of the film's narrative specifically on Okja, and expanding to such a big finale would've betrayed that narrative. Secondly, and perhaps more importantly, he also felt that it would've been "too cartoonish" to have a master plan like that go off without a hitch.
Okja's ending seems to show a pattern of "realistic" endings for Bong Joon-ho's more outlandish projects. Specifically, his 2014 sci-fi thriller Snowpiercer similarly ends on an incredibly dark note, but one that is not entirely devoid of hope in the grand scheme of things. We won't spoil anything if you haven't seen the film, but just know that it walks a fine line between pure pessimism and optimism.
Obviously, your mileage may vary with regards to how effective you find this storytelling technique, but there's a very clear argument to be made that it is a unique way for Bong Joon-ho to instill the morals of his stories. He does not necessarily spoon-feed a happy ending to his audiences, but he leaves them with enough hope to hammer home the themes that he aims for. Considering how both Snowpiercer and Okja ultimately turned out, we can't say that we blame him.
Okja is now available to stream on Netflix. If you are on the lookout for more information concerning the rest of this year's major film releases, make sure to take a look at CinemaBlend's comprehensive 2017 movie premiere guide and fill out your moviegoing calendars accordingly! You can also see what else is coming to Netflix later this year in our premiere schedule for the streaming service.
Your Daily Blend of Entertainment News
Originally from Connecticut, Conner grew up in San Diego and graduated from Chapman University in 2014. He now lives in Los Angeles working in and around the entertainment industry and can mostly be found binging horror movies and chugging coffee.
Your Daily Blend of Entertainment News
Thank you for signing up to CinemaBlend. You will receive a verification email shortly.
There was a problem. Please refresh the page and try again.