One Place Baywatch Has Actually Been A Huge Hit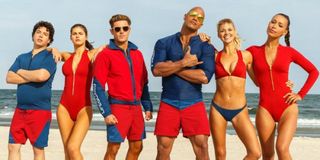 In the immediate aftermath of Baywatch's release, it became clear that the raunchy, Dwayne Johnson-led comedy was going to underperform domestically. It was originally projected that Baywatch would open to a $40 million gross in the US, but it ultimately only made $18.5 million in its first few days, then ended on $57.6 million. But it has been a much different story internationally, where Baywatch has fared well. This is especially true in Germany, where it has now grossed $16 million and counting.
This amount means that Baywatch is one of the most successful R-rated Hollywood comedies in the region ever. The Hollywood Reporter has also confirmed that this is the best performance for Baywatch in a single foreign market, easily eclipsing the next closest amount, which was the $12 million from the UK. Baywatch's international haul has helped to turn it into a relative success, and the figures from Germany mean that it has now grossed over $100 million internationally.
But while the appeal of Dwayne Johnson, Zac Efron, Alexandra Daddario and Kelly Rohrbach obviously helped the film succeed in Germany, the main reason for its impressive numbers was none other than David Hasselhoff. The Hoff has always been hugely popular in Germany, where the television show Baywatch also had a devout audience. In the immediate wake of the fall of the Berlin Wall, David Hasselhoff actually had a number one single in the West German charts for eight weeks, too.
Over the years, David Hasselhoff has released 10 albums in the country, and made various concert and television appearances. The most recent of these was the premiere for Baywatch. Dwayne Johnson was also in attendance, too, and clearly Germany will forever hold a special place in the wrestler's heart, as he took to Instagram to post a video thanking its inhabitants for turning out in droves to see the film.
Baywatch's international success means that it now has a gross of $159.4 million, which, from a budget of just $69 million, marks it a relative success. Unfortunately for those of you who enjoyed Dwayne Johnson's take on the beloved 1990s action drama, that amount is unlikely to see its previously touted sequel actually become a reality. Even though Dwayne Johnson, Zac Efron, producer Beau Flynn and its screenwriters Damian Shannon and Mark Swift had already discussed a sequel, Baywatch's domestic numbers, and the poor critical response to the film, were just too weak.
Fans of Dwayne Johnson can still see the actor in plenty more films over the coming months, though, starting with Jumanji: Welcome To The Jungle on December 20, and then Rampage on April 20, 2018. If those don't tickle your fancy, then check out CinemaBlend's full 2017 movie schedule to see what does.
Your Daily Blend of Entertainment News