This Rotten Week: Predicting Atomic Blonde And The Emoji Movie Reviews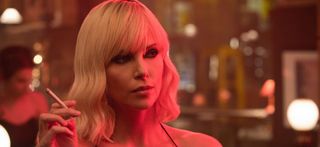 As the month of July draws to a close, we don't get a big blockbuster like Dunkirk or a Wonder Woman in this week's set of wide releases, but Charlize Theron is at least kicking some tail, and the kids will have something to check out. Let's take a look at Atomic Blonde and The Emoji Movie.
Just remember, I'm not reviewing these movies, but rather predicting where they'll end up on the Tomatometer. Let's take a look at This Rotten Week has to offer.
This has been a pretty good summer for women kicking ass. While Princess Diana of Themyscira won World War I and the box office with Wonder Woman, we now get Charlize Theron working her way through late 80's Berlin in an attempt to kick the crap out of every bad guy in the city. In Atomic Blonde, she is serving up a hot plate of whoop-ass in what looks like a frenetic and funny movie that continues the idea that not just men have to carry action films.
Director David Leitch has already pulled somewhat unexpected critical acclaim with high class action co-directing the original John Wick (85%). That movie, which was Leitch's directorial debut, kept the foot on the gas the entire time, and never really came up for air until almost everyone was dead. This latest looks to be a lot of the same. It appears a tour-de-force with enough laughs to make it well-rounded. Early reviews are overwhelmingly positive with the Tomatometer sitting at about 80%. I don't think it moves too much over the course of the week, and Charlize Theron proves again (after Mad Max: Fury Road) that she's more than up for this genre.
It was probably only a matter of time before we saw an entire movie based around the emojis living inside a cell phone. I suppose most kids can identify with the idea, even if it is about as moronic a concept as has ever been put on the big screen. Nonetheless, it's time to get ready for The Emoji Movie.
In this one, an 'Meh' emoji (voiced by T.J. Miller) feels the need to express itself beyond one emotion, and the "story" just kind of goes on from there. I couldn't even make it through the trailer of a movie that looks like it has nothing to offer but cliches and pandering to the younger generation. In an age when animated movies are as amazing as they are, it's a shame that something as stupid-looking as The Emoji Movie has managed to get made.
The Rotten Watch went a solid three for three last week, with every prediction landing within ten percent. I can't do much better than that. For starters, Dunkirk (Predicted: 85% Actual: 92%) has been hailed as a tremendous big screen experience, and Christopher Nolan's treatment of a turning point in the Allied defense against the German onslaught knocked it out of the park with critics. It's definitely a nice bounce back for the director after the disappointing Interstellar (71%).
Meanwhile, Valerian and the City of a Thousand Planets (Predicted: 50% Actual: 54%) landed right in range, and had critics pretty much split down the middle. Reviews were mixed, with the visual effects earning raves, but the lead performances from Dane DeHaan and Cara Delevingne getting sharply criticized. It's a shame for a movie that did have quite a bit of hype when it was announced the popular story was getting a big screen treatment.
And finally, Girl's Trip (Predicted: 84% Actual: 89%) finished strong with critics. It's great to see another female-led buddy comedy nail the laughs and the story. You could tell from the trailer that this movie had a solid chance to score well with critics because it didn't appear to pull any punches with the jokes - and critics also praised the on-screen dynamics of the cast in a way the recently released Rough Night just couldn't pull off. This is a huge win for a comedy.
Next time around we've got The Dark Tower, Detroit and Kidnap. It's gonna be a Rotten Week!
Doug began writing for CinemaBlend back when Terminator: The Sarah Connor Chronicles actually existed. Since then he's been writing This Rotten Week, predicting RottenTomatoes scores for movies you don't even remember for the better part of a decade. He can be found re-watching The Office for the infinity time.
Your Daily Blend of Entertainment News
Thank you for signing up to CinemaBlend. You will receive a verification email shortly.
There was a problem. Please refresh the page and try again.