Would Ron Perlman Cameo In The Hellboy Reboot? Here's The Actor's Blunt Answer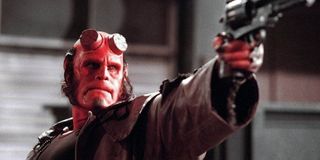 Are you getting tired of the same old PG-13 adventure offered by a Marvel or DC movie? Do you want your heroes bigger, tougher and redder? Well, it seems that you are in luck, because Lionsgate has officially decided to get into the Hellboy game with Hellboy: Rise of the Blood Queen -- a reboot being helmed by The Descent director Neil Marshall and will star Stranger Things' David Harbour as the titular hero. This hard-R reboot will take the franchise in a brand new direction, but could we potentially see a cameo from original Hellboy actor Ron Perlman? According to Perlman himself: don't count on it. The 67-year-old Hellboy icon tweeted when a fan asked him such a question:
So yeah, those comments about Hellboy: Rise of the Blood Queen do not exactly leave much room for interpretation. Ron Perlman is not going to cameo in the upcoming Hellboy reboot, and it does not sound like he really wants to anyway. The franchise is moving on under the guidance of Neil Marshall, and it does not look like the older incarnation of the franchise will receive much (if any) acknowledgment. This is David Harbour's show now, and he's apparently going to get center stage all to himself.
This is not the first time that we have seen someone from the original Hellboy franchise try to distance themselves from Hellboy: Rise of the Blood Queen. When the news broke that Guillermo del Toro and Ron Perlman would not return to the cult franchise, Jeffrey Tambor lashed out on social media against Hellboy creator Mike Mignola about the decision. Tempers generally seem to have cooled over the course of the last few months, but it is clear that someone like Ron Perlman still has no interest in becoming an active member of Rise of the Blood Queen's production.
It is worth mentioning that Ron Perlman's tweet does not necessarily indicate that he harbors any ill will towards the new version of Hellboy. All it really says is that he will not be part of the reboot. The actor portrayed the beloved demonic anti-hero over the course of two fan-favorite movies, and it makes plenty of sense that he would not necessarily want to cameo as someone else. This is not like the recent Power Rangers reboot, which had the awesome cameos from the Pink and Green Rangers that drove fans wild. The original version of the live-action Hellboy is still very fresh in our collective memory, and many people are still upset that Perlman isn't returning. In the face of such a polarizing fan reaction, it might be best to move on without that little piece of fan service.
Hellboy: Rise of the Blood Queen is currently aiming to begin production in September, with the release date possibly falling in late 2018 or early 2019. As for the rest of 2017's major releases, check out our movie premiere guide and get your moviegoing calendars filled out accordingly!
Originally from Connecticut, Conner grew up in San Diego and graduated from Chapman University in 2014. He now lives in Los Angeles working in and around the entertainment industry and can mostly be found binging horror movies and chugging coffee.
Your Daily Blend of Entertainment News
Thank you for signing up to CinemaBlend. You will receive a verification email shortly.
There was a problem. Please refresh the page and try again.