Why Losing James Wan Could Be Good For The Conjuring 3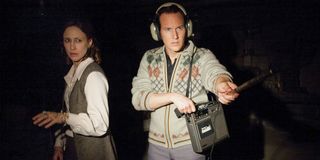 What The Conjuring franchise has managed to accomplish for the horror genre is nothing short of miraculous. Despite the fact that horror tends to be a harder sell for mainstream audiences than other types of movies, the series has become incredibly profitable since its inception in 2013. From there, each subsequent entry (and spinoff) has proven that the brainchild of Saw mastermind James Wan is one of Hollywood's most intriguing and promising properties. That said, things have become a bit more uncertain with the recent revelation that Wan likely will not return to helm The Conjuring 3 due to his commitments in the DCEU.
However, now is not the time to worry. If anything, this development fills us with a sense of optimism for what's on the horizon in the world of Ed and Lorraine Warren. On the heels of Annabelle: Creation's strong opening weekend, now seems like the perfect time to examine the reasons why James Wan's decision not to return to The Conjuring franchise (at least behind the camera) could represent a golden opportunity for the series to move in a brand new direction. With that in mind, let's dive in and figure out why.
New Blood Helps Keep The Franchise Fresh
Audiences expect to see a specific amount of Conjuring DNA whenever they go to see a Conjuring movie, so some homogeny is unavoidable. That said, there's always room for innovation, and the Annabelle films have both proven that introducing new directors can help keep The Conjuring universe fresh. Both John Leonetti and David F. Sandberg carved out unique styles and tones for their respective Annabelle projects, and that willingness to branch out and try new things could help keep the main Conjuring franchise relevant in the long term.
It doesn't matter if that means letting Leonetti and Sandberg graduate to the main series, or bringing in entirely new talent like Don't Breathe's Fede Alvarez, The Conjuring will always benefit from new blood trying new things. One of the worst things that a horror franchise can do is become predictable, and by swapping out filmmakers every few films, The Conjuring can ensure that no director (even someone as talented as James Wan) ever becomes too easy to anticipate.
Horror Is A Great Proving Ground For New Directors
There's no getting around it; horror gets a director noticed. It has worked for old-timers like Steven Spielberg, and James Cameron, and for more recent successes James Gunn, and even James Wan himself. With Wan set to step down as the director of The Conjuring 3, the franchise could become a perfect jumping off point for other up-and-coming horror auteurs looking to prove themselves to a larger audience. We have already seen hints of this working in The Conjuring universe, as David F. Sandberg signed on to helm the long-awaited Shazam solo project for the DCEU, and it could represent a step forward in the hunt for new blockbuster talent.
Getting horror right is one of the hardest jobs in Hollywood. It requires a director who knows how to work on a shoestring budget, sustain tension, and tell a coherent story. The Conjuring is a blockbuster by horror standards, and it could quickly become the best new proving ground for brand new talent.
Bringing In New Directors Can Keep These Films On Schedule
To James Wan's credit, he has remained one of the film industry's most in-demand directors for the better part of the last decade. The guy has so many plates to spin at any given time that the odds of him maintaining The Conjuring franchise's fairly consistent release schedule would likely never pan out if he opted to return to the franchise. Make no mistake, Wan is currently hard at work on Aquaman, and we would rather see him focus all of his efforts on one project that absolutely needs to work than stretch himself too thin. By stepping down from The Conjuring franchise (while still remaining an active participant as a producer and de facto "showrunner"), Wan can allow new filmmakers to pick up the extra slack and keep The Conjuring franchise moving like a well-oiled machine. This franchise works because there's seldom more than a full year between movies, and that pace can only improve if leadership becomes more decentralized.
This poll is no longer available.
Your Daily Blend of Entertainment News
Originally from Connecticut, Conner grew up in San Diego and graduated from Chapman University in 2014. He now lives in Los Angeles working in and around the entertainment industry and can mostly be found binging horror movies and chugging coffee.