The Picture Of Dorian Gray Is Getting A Remake, With One Key Change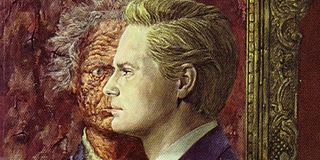 A new big screen take on Oscar Wilde's The Picture of Dorian Gray is in the works at Lionsgate with St. Vincent set to direct from an adapted screenplay by Elle's David Birke. What's more, this new take is set to offer something we don't often see in adaptations of the book: a female protagonist. The news comes as a wave of other female-led movies, like this summer's Wonder Woman, have started to bring in big returns.
Word of the new adaptation arrives via Variety with details still relatively nascent. St. Vincent (the stage name of musician Annie Clark) made her directorial debut earlier this year with the short film Birthday Party. The short was one of four segments featured in the horror anthology XX, all helmed by women. There's not yet any word on what other changes St. Vincent might have in mind for her version of The Picture of Dorian Gray, but history has proven the story is extremely malleable.
Big screen adaptations of The Picture of Dorian Gray are nearly as old as cinema itself. A 1910 Danish short represents the first filmic take, but there have been dozens of iterations across film, television, and radio. Among the best known versions is MGM's 1945 feature film, directed by Albert Lewin and starring Hurd Hatfield as Gray. While the majority of the film was shot in black and white, then state of the art Technicolor inserts were used for several scenes involving the portrait's degradation.
A previous gender swapped take on the story was released in 1983 with a telefilm called The Sins of Dorian Gray. In addition to offering a female protagonist (played by RoboCop II and Flashdance star Belinda Bauer), the small screen feature updated the story to a contemporary setting, depicting Dorian Gray as an actress whose changing visage is captured not through an oil painting, but on celluloid.
Most recently, Oliver Parker helmed an adaptation simply titled Dorian Gray. Released in 2009, the British production stars Westworld's Ben Barnes in the Gray role with Academy Award winner Colin Firth playing Lord Henry Wotton, the man who introduces Gray to his life of sin.
Cleary, The Picture of Dorian Gray is still in fairly early development, but we'll let you know as the project begins to come together. In the meantime, there are plenty of other classic books coming to the big screen, and plenty of other film projects to get excited about, which you can check out with our full schedule.