The Logan Noir Trailer Will Make You Want To Watch The Movie Again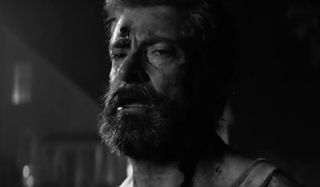 Even though it has been over two months after Logan was released, the film is still rightfully regarded by many as not just the best comic book effort of the year so far but also just one of the films of 2017 regardless of genre. Director James Mangold and star Hugh Jackman have decided to celebrate its success by releasing a brand new version of Logan, which will see the film presented in black and white, and the trailer for the film in this form makes it look utterly divine.
Well, not only does that trailer instantly make me want to watch Logan all over again, but it also suggests that this black and white version will bring a whole new perspective to it, too. Plus, it also just looks cool as funk, and it immediately makes Hugh Jackman's performance appear even more towering. Something that, if he were still alive, Orson Welles would almost certainly agree with, as he once insisted to Peter Bogdanovich that black and white was the actor's friend and that, "every performance is better in black and white." After uploading the first trailer for Logan Noir, a new title that I for one thoroughly endorse, director James Mangold also looked to explain to one non-plussed Twitter user exactly why he has decided to re-release the film in this style. James Mangold wrote,
While I didn't need convincing about the release of the black and white version of Logan, it's refreshing to see that James Mangold has a legitimate reason for doing so rather than simply trying to exploit more money out of fans. Not that 20th Century Fox were disappointed with Logan's haul, as it went on to gross $606.8 million at the box office from just a $97 million budget. More than that, though, Logan was met with superb reviews and endless superlatives from critics and moviegoers, some of whom even went as far as to call it the greatest superhero film of all time.
There's a good chance that watching Logan in black and white will only add to this consensus. You will be able to check out Logan Noir as part of its Digital HD release today, while it will follow on Blu-ray, DVD, and 4K Ultra HD on May 23rd. If that doesn't tickle your fancy, then you can also check out CinemaBlend's full 2017 movie schedule to see what else is due for release before the year is out.
Your Daily Blend of Entertainment News
Thank you for signing up to CinemaBlend. You will receive a verification email shortly.
There was a problem. Please refresh the page and try again.