How Jack Black Channeled His Inner Teenage Girl For Jumanji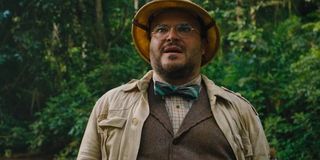 Sony Pictures' Jumanji: Welcome to the Jungle is designed to function as both a sequel to the original 1995 Jumanji movie helmed by Joe Johnston and as a self-contained story. Instead of seeing elements of a jungle adventure board game come out into the real world, the new film imagines Jumanji as a video game and sees four high school kids pulled inside it, assigning each to a jungle-themed avatar. As such, Jack Black winds up playing a teenage girl in the body of one Professor Shelly Oberon. Luckily, Black had a very easy time getting into character. Here's how he described his process:
Jack Black shared those super secret tricks of the acting trade with EW in a conversation about his role in the December 20 release. Professor Shelly Oberon is the avatar of Bethany White, the most popular girl in school, played by Madison Iseman. As we've seen in the Jumanji: Welcome to the Jungle trailer, Madison isn't exactly thrilled about winding up in Oberon's body.
Oddly enough, Jack Black has come very close to playing a teenage girl in the past. A pink-haired teen was among one of several female roles played by Black's fictional movie star Jeff Portnoy in The Fatties: Fart 2, an imaginary sequel featured in Ben Stiller's 2008 comedy Tropic Thunder. It's probably a safe bet that Jumanji: Welcome to the Jungle will include a lot less flatulence.
Jumanji's core cast also sees characters played by Ser'Darius Blaine, Morgan Turner and Alex Wolff. Those three wind up in avatar bodies played by Kevin Hart, Karen Gillan and Dwayne Johnson, respectively. The body swaps wind up giving each teen a very different perspective. A high school football star winds up in the diminutive frame of Hart's zoologist and weapons specialist, Franklin "Moose" Finbar; a quiet loner becomes Gillan's overtly sexualized action commando. Ruby Roundhouse; and a shy nerd turns into Johnson's heroic archeologist, Dr. Smolder Bravestone.
Director Jake Kasdan appears to have assembled some really fun talent for this new Jumanji movie. While it should be a blast just seeing Jack Black, Karen Gillan, Kevin Hart and Dwayne Johnson play these roles within roles, Welcome to the Jungle also promises to play with video game conventions, including having the avatars die and re-spawn. If the final version is as much fun as the trailer makes it look, Sony Pictures could have a real holiday hit on their hands when the family adventure arrives on the big screen this December.
Your Daily Blend of Entertainment News