David Hasselhoff Wants To Make His Knight Rider Movie Just Like Logan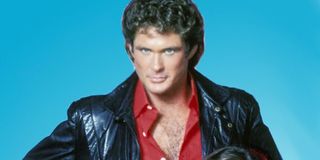 Could David Hasselhoff make a big screen return as Michael Knight, the crime fighting hero behind the wheel of the NBC action series Knight Rider? While it doesn't sound like there are any firm plans for a big screen Knight Rider film quite yet, Hasselhoff confirmed to CinemaBlend that not only does he want to return as his iconic character, he wants to do so in a storyline he likens to 20th Century Fox's recent R-rated comic book adaptation Logan.
The biggest hurdle to overcome with a Knight Rider movie like that is landing the right tone. A huge part of the charm of the original series stems from the silliness of the basic plot. David Hasselhoff might actually be onto something in approaching Robert Rodriguez. The Austin, Texas based filmmaker tends to deliver R-rated action with a level of tongue in cheek humor that would be exactly what a Knight Rider movie needs. What's more, Rodriguez is famously budget conscious and would be a major factor in revving up KITT for the big screen. The budget for Logan was nearly $100 million and Knight Rider doesn't exactly have the same franchise track record at the box office. Still, seeing an aging Michael Knight ride KITT through a Mad Max style post-apocalypse would make for one fun summer blockbuster.
As cool as a Logan-esque big screen Knight Rider finale might sound, the odds aren't exactly in favor of such a project. It was revealed last year that plans are underway for a Machinima webseries reboot of the franchise with four-time The Fast and the Furious helmer Justin Lin producing. David Hasselhoff recently teased that he's involved in this new take, so any plans for a Knight Rider movie are likely going to have to take a back seat.
While it's certainly true that Robert Rodriguez is a director who likes to keep multiple projects in development at once, he himself has not made any indication that he has plans (or even the desire) to take on a Knight Rider movie. The selfie that David Hasselhoff refers to is likely this one, which appeared on Rodriguez's Twitter feed last summer, several months before the new webseries was announced.
Premiering on NBC in 1982, the original Knight Rider ran for four seasons and 90 episodes. The show followed David Hasselhoff's Michael Knight, a skilled crimefighter operating alongside an advanced A.I. vehicle, the Knight Industries Two Thousand (or KITT, for short). Following the end of the original Knight Rider series in 1986, David Hasselhoff returned for a 1991 telefilm called Knight Rider 2000. The project failed to develop into anything more substantive, however, and Hasselhoff wound up not returning for several subsequent attempts to reboot the franchise.
David Hasselhoff did finally reprise the Michael Knight character in 2008 for what was, to date, the most recent iteration of the Knight Rider franchise. Hasselhoff makes a cameo at the end of the NBC series' pilot telefilm, revealing that the show's lead (Justin Bruening as Mike Knight) is the son of his original character.
Your Daily Blend of Entertainment News