Alita: Battle Angel Has More In Store For Mahershala Ali Than We Thought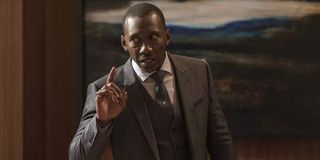 The last 24 hours have been rather hectic for Mahershala Ali. Not only did he win the Best Supporting Actor Academy Award for his performance as Juan in Moonlight, but he was right in the thick of the action when Warren Beatty and Faye Dunaway accidentally announced that La La Land had won Best Picture. But that's now firmly in the past, because Mahershala Ali's future looks remarkably bright, too. That starts with his role in Alita: Battle Angel, which it turns out is much bigger than we originally thought because he will actually be playing two parts in the film.
Mahershala Ali made this revelation in the press room at the Academy Awards, where he was still proudly clutching onto his Academy Award. When the conversation turned to Mahershala Ali's future, Alita: Battle Angel was soon brought up, which, according to Movie Pilot, provoked the actor to reveal that he is playing two roles. The actor admitted:
Unfortunately, Mahershala Ali didn't go into further detail regarding his characters, which was understandable because at the time he was a little bit preoccupied with celebrating the success of _Moonlight. _
What we already knew about Mahershala Ali's role in Alita: Battle Angel is that he will be playing Vector, a man who runs and fixes Motorball matches, which is a gladiator-style combat game. It's a slight deviation from the character in the beloved manga and anime from Yukito Kishiro. It's hard to tell exactly who Mahershala Ali's other character in Alita: Battle Angel will be, though, but we can only imagine that it will linked to Vector in some fashion.
There's a huge amount of hype surrounding Alita: Battle Angel. Rosa Salazar is playing the titular role of Alita, who is a female cyborg who's discovered and then reprogrammed by Christoph Waltz's Dr. Dyson Ido to become a bounty hunter. This leads her to run into Mahershala's Ali Vector, the film's villain.
As well as Mahershala Ali, Christoph Waltz and Rosa Salazar, the Alita: Battle Angel cast is packed out with Keean Johnson, Ed Skrein, Lana Condor, Michelle Rodriguez, Jackie Earle Haley, Jennifer Connelly and Eiza Gonzalez. The clientele behind the scenes for Alita: Battle Angel is just as impressive, too, as it has been written by Laeta Kalogridis and directed by Robert Rodriguez, while it has been produced by James Cameron and Jon Landau.
James Cameron has been involved in Alita: Battle Angel for well over a decade now. However, while he had originally envisioned writing and directing Alita: Battle Angel, he became a little bit too preoccupied with the goings on over at Pandora to actually do so. Robert Rodriguez stepped into the void, and we'll see what he can produce with the franchise when it's finally released on July 20, 2018.
Your Daily Blend of Entertainment News